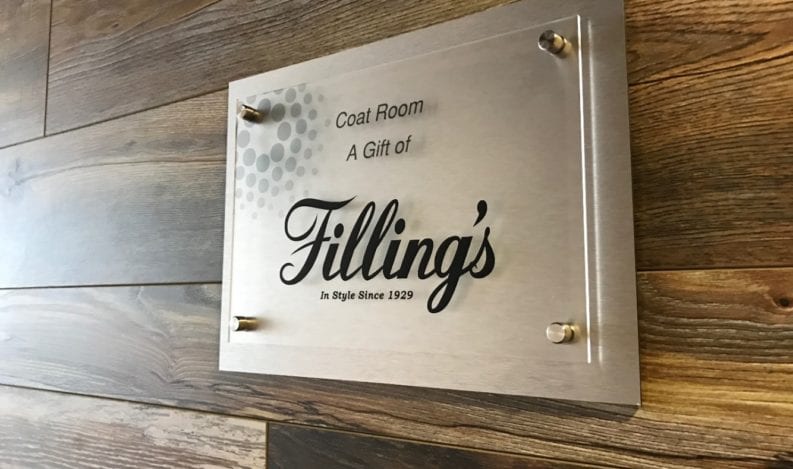 The Answers to 7 FAQs You Need to Know About Acrylic Signs
When you're looking to refresh your business's interior space on a budget or boost your brand within your offices, brick-and-mortar retail store, or other physical business locations, custom acrylic signs pack a lot of bang for your interior signage buck.
But what is acrylic signage? And what are the reasons to choose acrylic over other materials, like metal, glass, or even wood, when designing interior signs? For nearly 50 years, The H&H Group has been answering these questions from business owners just like you. We help design, produce, and install the most beautiful acrylic signs to draw people into your business and promote your brand image.
Please don't waste your time trying to go it alone or with other so-called professionals who don't produce high-quality results on time. Instead, trust the signage experts at The H&H Group with all your branding and business sign needs!
1. What Are Acrylic Signs?
In short, acrylic signs are made from or with a transparent plastic-like material that mimics glass but is much lighter and durable. With proper care, this type of sign can last for years to come.
Acrylic material is probably most commonly called Plexiglas or Lucite by consumers, though those are actually trademarked product names. (Kind of like how everyone refers to facial tissues as Kleenex, even though that's technically the Kimberly-Clark Corporation's registered trademark name. Fun fact: this phenomenon in the world of marketing is known as a proprietary eponym. Use that factoid at your next dinner party!)
2. What Are the Advantages of Using Acrylic Signs?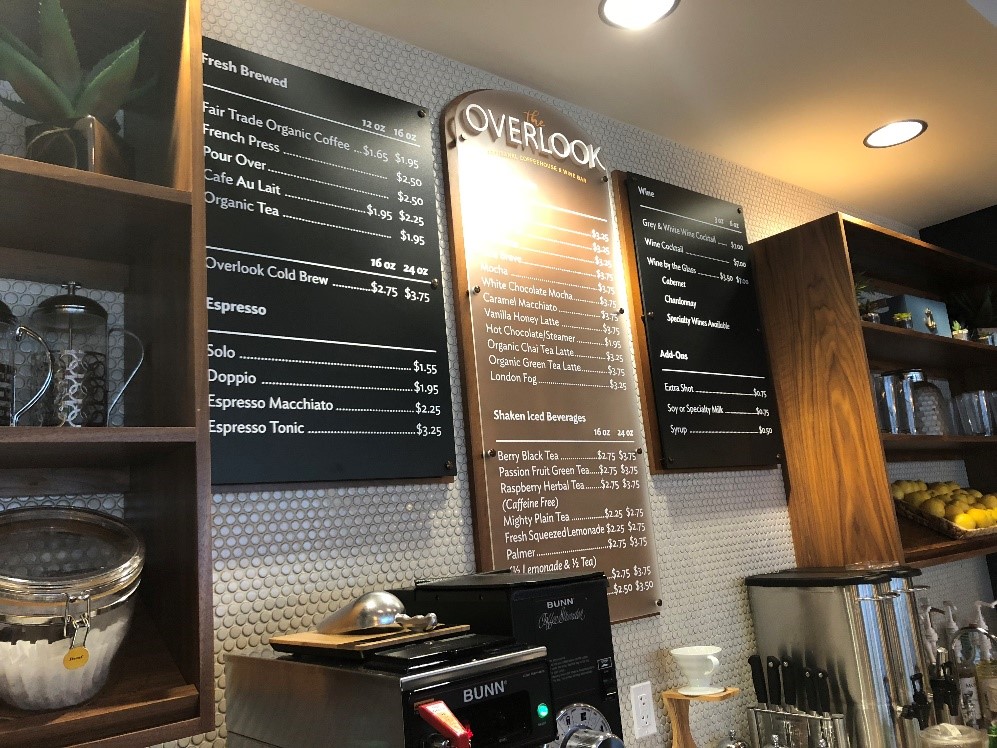 The benefits of custom acrylic signs are many. They are cost-effective while appearing highly premium, depending on the installation. Acrylic signs can feature printing on a simple rectangular or basic-shaped panel (see our main image above), or they can be laser cut into 3-dimensional letters and numerals. Acrylic signage might also feature a layered design, which can easily incorporate additional materials.
Essentially, acrylic signs are one of the most versatile options for nearly any business or professional interior. Whether you need wayfinding office signs, no-nonsense ADA signage, or even POP displays and menu boards, custom acrylic signs deliver high-impact results. The finished product can be cut to a custom size and are perfect for indoor and outdoor uses.
3. Can Acrylic Signs Only Be Installed Indoors?
The short answer? No! acrylic is such a durable material that it's often appropriate for exterior signage, too. In fact, some people refer to it as "plastic glass," and it is routinely used as an alternative window panel material.
Of course, weatherproofing measures may need to be taken to ensure the longevity of some types of outdoor acrylic signs. The material can also be permanently scratched or chipped, so it's essential to carefully consider your sign placements to prevent that kind of damage.
4. How Are Acrylic Signs Made?
As we touched on above, acrylic signs can be designed and manufactured in many ways, incorporating printing techniques, material layering, and laser cutting of letters, numbers, and shapes. Cutting shapes from acrylic involves specialized machinery like laser cutting tools and large-format printing equipment. The actual production of acrylic signs today is computer-aided.
Acrylic sign edges can be left as-is after cutting/shaping to present a frosted and more rustic look, or they can be polished to obscure the fact that the material was machine-cut.
Check out our work for clients like the Lancaster Chamber and LancasterHistory for some excellent examples of how diverse acrylic signs can achieve different goals. They can also be easily mixed and matched with signs made from other materials to produce dramatic results.
5. Where Can I Buy Acrylic Signs Near Me?
We're honored in Central Pennsylvania and beyond when customers choose us here at The H&H Group to purchase their custom acrylic signs. "Sure," you're probably thinking, "of course, they'd say that."
But hear us out. There are various reasons to work with a professional, expert signage design and installation resource when you're shopping for high-quality acrylic signage. The keyword there is "high-quality," by the way.
We know that there are other places where you could get custom acrylic signs for your business. However, our design experts make all the difference when it comes to your experience in designing, producing, and installing your business signs. We make the process easy, leaving you without a headache and with more time to focus on growing your business.
6. Why Should I Work with a Professional Sign Designer?
While you can absolutely purchase business and office signs from online resources and have them shipped directly to your door, there's a higher likelihood you're going to be disappointed with the result. Plus, you almost certainly won't have access to a local team of knowledgeable marketing pros willing to help you hang your signs and guarantee they appear exactly as they need to.
Primarily if your new acrylic signs serve a wayfinding purpose, there may be stringent ADA compliance regulations for their design and installation. Unfortunately, you may not get these regulations right by taking a more DIY approach to your signs. We don't mean to sound scary, but not following these regulations could ultimately lead to fines or legal trouble that could be unnecessarily expensive for your business.
That's why working with a local team of acrylic sign experts is a move intelligent business owners make. The H&H Group will take those worries off your plate by securing your signs and following applicable guidelines.
7. How Much Do Acrylic Signs Cost?
Compared to other, more "custom" signage materials like glass panels or even wood, acrylic is an affordable option that looks high-end without the premium price tag.
It isn't easy to quote exact pricing on any signage without knowing the specifics of a customer's individual project goals and needs. But for reference, clear acrylic sheeting in the marketplace with a thickness between .06″ and .22″ is typically priced between $4 and $9 per square foot.
Now, it is crucial to note that acrylic is available in even more thickness options, and adding color to the material will also affect the overall cost. Also, consider custom shapes and how you want to brand your acrylic signs—these features also figure into final pricing for your signage.
In the end, the best way to determine what the acrylic signage you need will ultimately cost is to contact us for a free quote on your project. Our signage pros at The H&H Group are always happy to offer guidance and advice! And, if your budget is particularly tight, we can even help you determine whether there may be other signage options that may better suit your needs.
Ready to Buy Interior Acrylic Signs? The H&H Group Makes the Process Easy!
When we say that we are invested in your business's success here at The H&H Group, we mean it. That's why our signage ordering process begins with a friendly conversation about your goals.
We love creative problem solving, so even if you're still not sure whether acrylic signs are the right solution for your business's interior (or exterior) branding needs now, we are happy to guide your decision-making process!
Get in touch with our signage experts at The H&H Group today to discover a better sign design and installation experience.