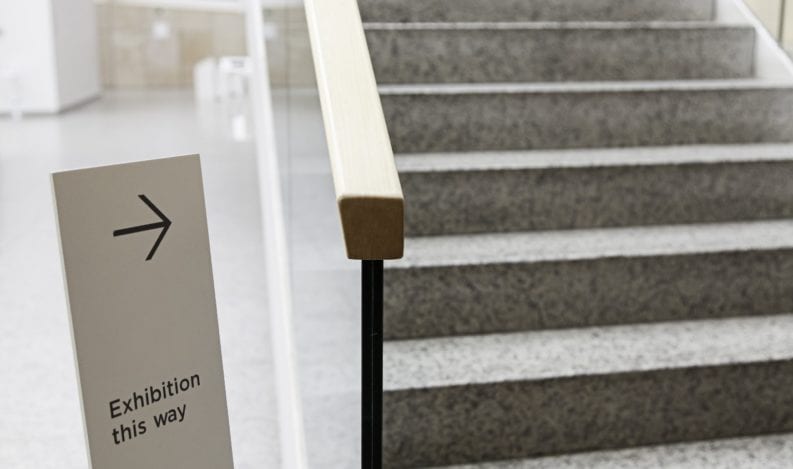 Effective Use of Wayfinding Signage
No matter whether you're hosting an event, or are simply taking part in a trade show or other exhibition put on by another organizer, you need good, clear signage to get the best results. In fact, we'll go on record stating that signs can make or break an event's success.
And among the various types of signs you'll need for your event—from banner stands to table throws, wayfinding signage may be the most important.
After all, if attendees can't locate your booth among a sea of exhibitors—or worse yet—can't find their way into and around the event you planned and are hosting yourself, you may end up with a lousy return on your investment of time and resources for the event. Who wants that?
Today's post spotlights how wayfinding signs for events can help you get the most out of any event marketing efforts your business takes on.
What are Wayfinding Signs?
Although you may not know the technical name, "wayfinding signs," we've all relied on these useful guideposts at one point or another. Just think of road signs that tell you what route you're on or how many miles it is to the next highway exit—these signs have probably often helped you find your way.
On a smaller scale, wayfinding signage can help us navigate our way inside unfamiliar office buildings or parking structures we've never visited before. And these signs can direct your event attendees to where they most want to go, especially within enormous trade show exhibit halls.
What Wayfinding Signage Should Do
The main goal of wayfinding signage—whether permanently installed or just up for a few days at an event—is to help people find what they need, quickly and easily.
If your event wayfinding signs steer people in the wrong directions or are hard to read, for instance, they'll inevitably become frustrated and annoyed—and that could lead them to simply abandon your event! (Or, even if they do stay, they likely won't give you very good marks in any post-event surveys you send out later—beware the negative review!)
Helps Attendees Find Your Event
Is your event a big trade show in a cavernous convention center with a labyrinthine parking structure attached? You will need to help your attendees actually locate your event! Wayfinding signs should leave no question about where people can park their vehicles, enter the building, get their tickets, purchase food, etc.
Influences Traffic Flow
Your approach to placing wayfinding signage physically outside your event space to lead people in needs to continue within your event space. In fact, you can direct traffic in specific directions with the proper approach to your wayfinding strategy.
For example, if you want to funnel people through an exhibit hall in one direction, signage can help you set the path. Also, consider handheld printed maps or freestanding map kiosks that illustrate how people should ideally experience your event.
Makes the Event Feel Like an Immersive Experience
Getting creative with your wayfinding signs can make your event feel more engaging to attendees. You can collaborate with your show participants to give them ways to promote themselves in your wayfinding materials, or you can place signage in unexpected locations (like on floors). In other words, mixing elements of engagement marketing with your event marketing efforts can pay off by delighting your attendees as well as exhibitors and/or individuals working at your event.
Great Examples of Event Wayfinding Signs
For Event Hosts
When you're hosting an event at your own location or at a dedicated event space, you often have a lot of creative control over wayfinding and other signage. This can be invigorating or terrifying, depending upon your perspective! (Quick plug for our services—if you're feeling overwhelmed by your event planning process, give The H&H Group a call for help right away!)
Hopefully, you're excited to discover all the ways you can point your event attendees in the right directions. These are a few of our favorite wayfinding sign formats.
Floor Graphics
As we've talked about here on the blog in the past, colorful floor graphics are attention-grabbing and generally inexpensive to implement. As an event host, you can use these powerful marketing pieces to lead people where you want them to go without having to print paper maps or design a wayfinding app.
Elevator, Stair & Escalator Wraps
If your event takes place in a location where attendees will have to use elevators, stairs, or escalators, there are fun ways to market yourself and/or your partners with decals and other printed graphics in and around these locations. Elevator door "wraps," are just one example of an unexpected site for signage that can pull both wayfinding and branding duty.
For Event Participants
As a participant in an event, you may not have much control over the wayfinding signage that organizers choose to employ, but don't overlook the possibilities that may be available.
Sponsorship Opportunities
If an event is large and involves a lot of different partners—like a chamber of commerce expo or many businesses coming together to bring a noteworthy speaker to town—you'll likely have some sponsorship options presented to you. Perhaps parking signage in the garage attached to the convention hall is one of the things you can get your name on. Or, as we mentioned above in the section for event organizers, you might be able to advertise in an elevator or another place along the path into the event itself.
If the sponsorship cost is within your budget, adopting wayfinding signage can be well worth the spend, as these signs will have a lot of eyes on them.
Printed Materials and Posters
Last, but certainly not least, if you're attending an event, you can design a poster or other print piece to direct your audiences to join you. Even if you're not the organizer, you may want to create some signage for within your own offices, stores, or locations to promote your participation in an upcoming event so your customers and fans know how to find you there. Be sure to review our tips on creating effective event posters for more.
The H&H Group Can Help You Pull Off a Successful Event
Whether you're just looking for a high-quality sign printer, or you need a little guidance on making that event you're hosting for the first time go off without a hitch, we're here to support businesses in Central PA and beyond!
The H&H Group is dedicated to craftsmanship and attention to detail in every sign we create, but we also take a collaborative approach to working with our clients to help ensure they meet their marketing goals. Download our white paper on maximizing your Event Marketing ROI, or just drop us a line and let us know what you need!