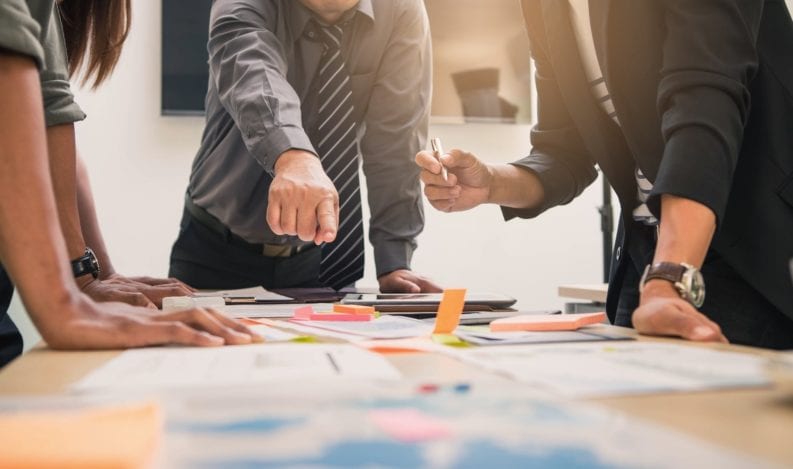 5 Secrets to Powerful Post-Event Marketing You Can Do Immediately
After months of planning, weeks of stress, and endless hours of work, your big event is finally over—you can breathe again! All of your marketing team's work has finally paid off, and you should definitely take the time to relish in that post-event glow. Here's the thing—you're not quite finished yet.
Companies like yours tend to invest a lot of time and resources into attending or hosting an event or conference. In fact, you or your event manager may have already worked with The H&H Group to create some of those great marketing materials. After everything that has been invested, you're going to want to make sure all of your hard work pays off. Here are some ways to get the most return on your investment with some key post-event marketing strategies.
Post-Event Emails
Part of your event marketing strategy should be to send out an email. When someone takes the time to attend your event, it is important to show your appreciation. Whether that's in the form of a simple "thank you" email or a post-event offer (more on this later), your audience will be more likely to reach out and provide you a potential lead when you engage them.
If someone mentioned that they would attend your event, but didn't, you can also send out a "we missed you" email to remind them of upcoming events. Show them that they were missed! This is also a great time to get them to view videos of the event on your website or to link to materials they may be interested in. In addition, these emails should also contain links to a post-event page that has additional info for upcoming events.
Create a Post-Event Page
When you create a landing page recapping your event, you're practicing great post-event engagement. Anyone who comes to your website that didn't attend the event can now see what they've missed. This is a great place to put videos, photos, statistics, helpful materials, etc. You and your company put a ton of work into this event, so you should be proud to show it off and to give all of the valuable material back to your audience.
Post-Event Surveys
Event marketing can sometimes be difficult to measure. Do you count it a success if you have a long list of emails to reach out to? Or maybe by how many people attended? Either way, as an event manager, you or your boss will likely want to know how well your event was received. You could have 200 people at your event, but if the information you provided wasn't clear or valuable, you're not likely to get a great return on it.
When you create your post-event page, we also suggest creating a survey for attendees to fill out. Whatever your goal was for the event, ask people about it! Even if it's just a simple rating on how informative they thought it was, having this feedback can be valuable on how to improve for the next event.
Post-Event Offers
Keeping your audience captivated for an event is difficult enough, but after the event it can be even more of a challenge. A simple way to have people reach out to you or stick around for more info from your company is with a post-event offer. Something simple like a discount code to show your guests appreciation is a great marketing strategy to keep people wanting more. It can also be an incentive to have people fill out your survey!
Keep Engaging the Conversations Across All Platforms
While your website is your main focus, it's important to remember to not neglect any other outlets you have during downtime. Especially if you host or participate in an annual event, you'll want to make sure your social media pages don't go quiet in between events.
As part of your post-event engagement strategy, you're going to want to keep audiences informed and updated. This is a great opportunity to recycle older content, gain more traffic on your website, and give guests something to look forward to. Whether you post on Facebook, Instagram, Twitter, or LinkedIn, event marketing is all about keeping people aware of your brand!
One of the most valuable tools for your event marketing strategy is to make sure you have the best collateral possible. That means signage, mailers, tradeshow materials, or anything else you might need. The H&H Group is here to help you deliver your business's message clearly and concisely.
In addition to these post-event marketing tips, we also have pre-event and "at the event" marketing tips. The complete set of tips can be found in our event checklist.
Download Our Event Marketing Checklist to Make Sure You Get the Most from Your Events