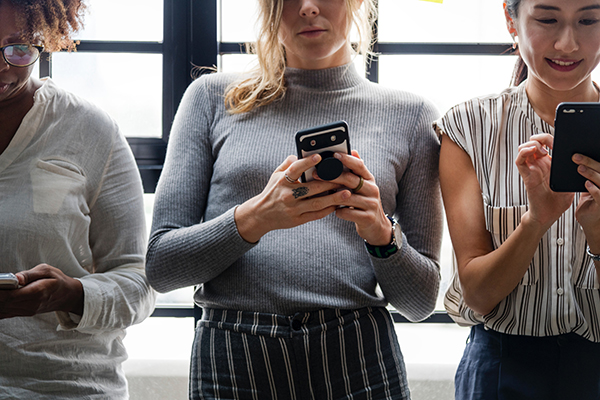 Why People Share Content Online (And How To Get Them To Share Yours)
The H&H Group understands the COVID-19 pandemic presents every business with unique challenges. Our blog content is here to help you face them!
**********************************************************************
Put simply, "people share to connect with each other, not with your business." Social media marketing expert Laura Roeder dropped this bit of wisdom about why people share content in a Forbes article a few years ago, and it remains true today.
Whether brands and businesses like it or not, people aren't sharing your social media content because they harbor some altruistic desire to push traffic to your website or because they want to increase awareness of your brand. They could be your biggest fans on social media, and they will still only share things that strengthen their relationships or build up their own personal identities.
So, how can you get your audience more motivated to share your content? Today's post lays out some of the biggest things your social media content needs to have to make it "share-worthy."
Content For Your Readers' Readers
People share content that reinforces their values or their sense of identity. In other words, they promote your content because it is good for their "personal brand."
In fact, 68% of people polled in a recent New York Times Customer Insight Group study on the psychology of sharing said they share "to give people a better sense of who they are and what they care about."
An example: A brewery posts a video of hops being harvested. The footage shows enormous pieces of farm equipment plucking hops from the bines and people hoisting bales. Beer lovers who consider themselves connoisseurs of "all things hoppy" are excited about this piece of content because it resonates with their perceptions about their personal relationships with this expressive ingredient in beer.
So, what do they do? They share the video! They take on some bit of ownership of this content because it reinforces their self-image. And this ultimately helps the brewery's brand by having a fan do some of their content marketing work for them!
The moral of the story? When creating content for your business, don't simply think about how you can build something of value for your subscribers. Strive to create something that will entice your existing audience to share because it builds their own value/credibility.
Credibility
Speaking of which, your sharers' own credibility is on the line when they share your social media content.
This means you had better have a solid marketing strategy behind your social media posts, or people aren't going risk aligning themselves with your content. Your brand or company needs to have established trust before people will risk pushing your content to others.
Especially in these times when people are apt to call others out about spreading "fake news" on social media—and the social media platforms themselves are beginning to get involved in policing content—you need to establish and protect your brand's status as a trustworthy resource in your industry.
Focused Messaging
There's no excuse. Your social media content should always be on-brand. You can be playful, but try to post things that align with your business's core purpose and values. Topics can be tangential to your business, but they should always have some tie-in with your company values.
Keep things simple and have a valid reason in mind for everything you post. Again, ensure that you are posting based on a clear marketing strategy, not just "winging it."
Don't Forget to Think About Your Tone
Along with messaging that is always in line with your brand values and overall marketing strategy, you also need to think about the tone you take in social media posts and interactions with your audiences. Check out our previous blog post on writing conversationally—a key to building excellent audience rapport—and how to keep the way you talk to your fans on-brand, too.
Authenticity
Sure, you need to stay true to your brand voice and reinforce your values and goals, but that in no way means that you need to be conventional and stuffy.
Humanize the social media content you post, and it will instantly be more shareable. Feel free to use humor. Be authentic. And, don't forget to indulge in some great storytelling here and there.
If your content comes across as corporate and contrived, chances are it's not going to get shared.
Appropriate Tie-Ins with Current Events
Content production flows rapidly on social media platforms. People are attracted to content that is relevant to current happenings.
For instance, nearly everyone is talking non-stop about our nation in quarantine right now. This type of content is instantly shareable. Just be careful with this one not to unwittingly step into a polarizing issue, which could turn into a PR faux pas and wreck your brand's carefully cultivated credibility or authenticity.
Engagement
Last, but certainly not least, you need to engage with social media users as they interact with your content and create a brand experience for them. Many brands and companies actually forget this step, and it makes their social media presence, well, not that much of a presence!
Don't post and run. Join the conversation. Show that your brand is accessible and engaged.
And, your responses to ongoing conversations can themselves become shareable content, which makes participating in discussions about your brand an opportunity to snowball your brand visibility!
The H&H Group is Here to Help You Amplify Your Brand
Need even more fresh ideas to get people talking about your brand? Our marketing strategy experts at The H&H Group are ready to guide you through creating content—both digital and physical—that gets results.
From signage to print marketing services to promo products, The H&H Group is Central PA's best resource for everything you need to advance your brand with successful marketing. Contact us today to learn more!