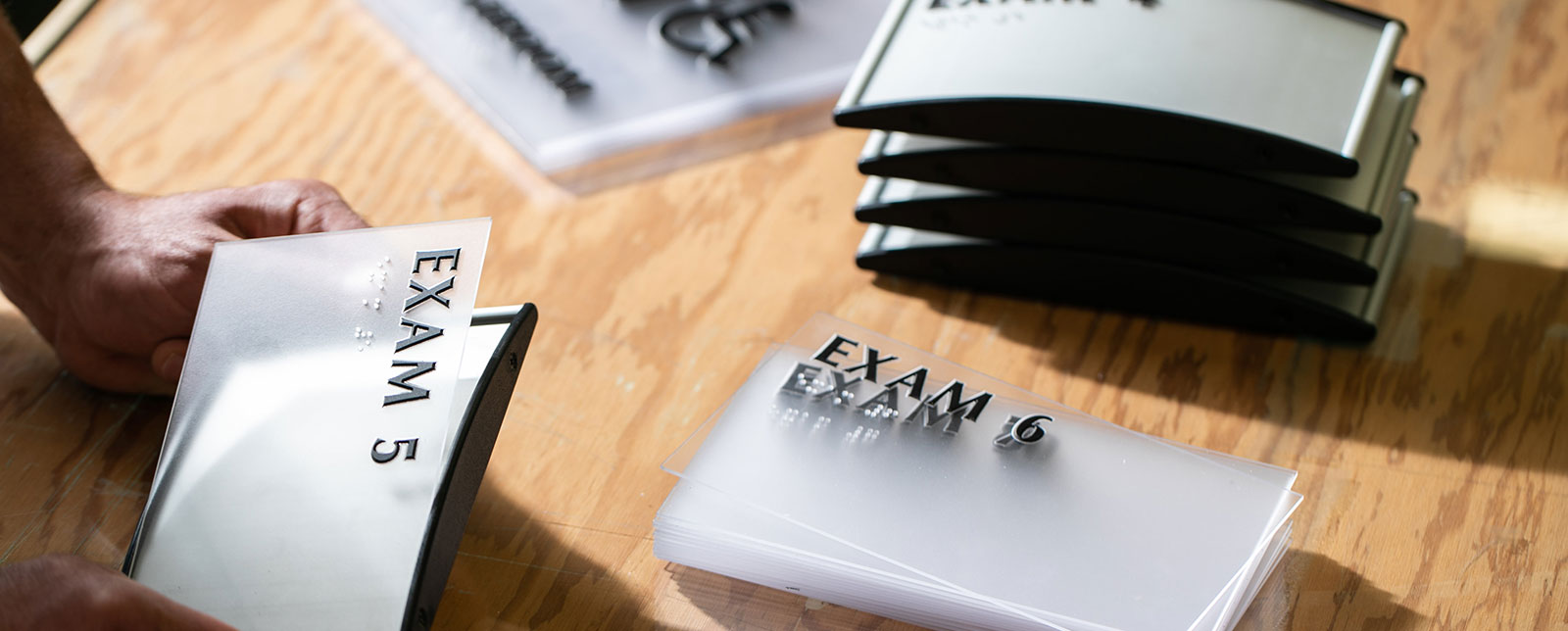 Custom Signs
Get the High-Quality Custom Signs You Deserve.

Your Business Needs to Stand Out!
---
You take a trip to your new local coffee shop when you notice they have a designated area with photobooth props. Your eyes are instantly drawn to the beautiful custom signs displaying their logo and favorite hashtag for their shop. You think, "wow, that's so interactive and fun. I'll have to come back with my friends!" That's custom signage at work, bringing in new customers.
When you want to draw a customer in and make a lasting impression, having custom signs can be your first step in accomplishing those goals. Whether you are the owner of a trendy coffee spot or a mechanic looking to get some more business, custom signage can help! And if you are looking for the best custom signs on the market, we have what you need!
CHOOSE FROM A WIDE RANGE OF SIGN DESIGNS AND TYPES OF BUSINESS SIGNS
Business signage can be beneficial when you want to get a message across, but only if you've got the right type! Many businesses forget that custom signs can be critical in showcasing what your brand is bringing to the table. From street-facing exterior signage to interior signage designed for customer engagement, the signs you choose tell your brand story just as much as your employees. Robust, high-quality signs show that you take your business—and your customers!—seriously.
Don't let dull signs made from low-quality materials give your customers the wrong impression about your business. At The H&H Group, we specialize in making all sorts of high-quality signs to amplify your brand and get people talking about what you have to offer.
---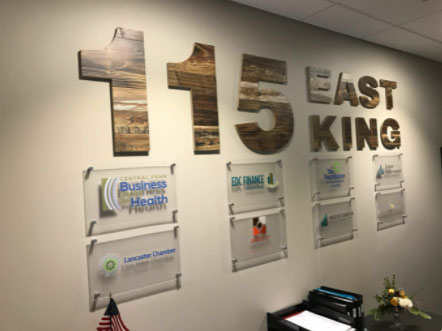 INTERIOR SIGNAGE
Enhance your business location's walls, windows, floors, and ceilings with professionally designed interior signage! Simple table covers or full-color wall and window decals can create a strong branding impact with minimal effort. Your business's interior spaces present a nearly limitless supply of opportunities to enhance the physical atmosphere while promoting your work to anyone who walks through your doors. And, if you add custom signage that encourages customer interaction, you might get some free social media word-of-mouth advertisement, too!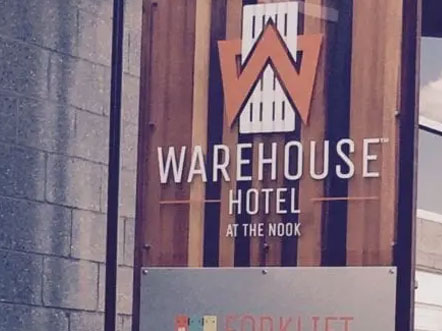 OUTDOOR SIGNAGE
Make the right first impression with a custom sign that attracts attention and looks great, too. Do you need outdoor banners, a yard sign, feather flags, magnetic signs for your company vehicles, or even vinyl lettering for your display windows? A custom sign to showcase an upcoming sale or display this month's discounted price on a service you offer? Or what about a new sign to replace one that's faded in the sun? Our talented custom sign designers can help you transform your business's exterior with a wide range of signage options built to withstand the elements and drive business.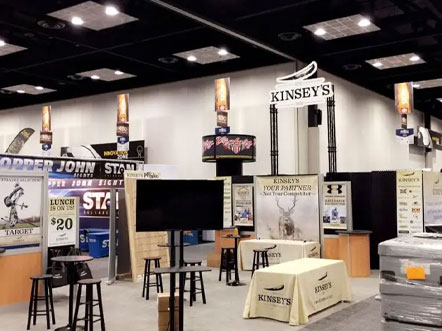 TRADE SHOW & EVENTS SIGNS
Trade show and event signage are the perfect way to tell your brand's story quickly and effectively to a new audience. Elevate event marketing with custom business signs from The H&H Group. There's no one solution for all companies, so H&H wants to help take your business and all your signage to the next level, no matter your next event. Whether you want an event banner, corporate event signage, a complete trade show booth, a digital display, or even a combination of these elements, we'll work with you to help you tell your brand's story effectively.
DO YOU WANT CUSTOM SIGN DESIGNS THAT MAKE YOUR BUSINESS STAND OUT?
Indoor and outdoor signage lets people know where you are, who you are, and what you do. Having custom signs will make your business stand out from the crowd in a good way! If you want to make a good impression, sprucing up your business with impactful, visually appealing signs is the solution.
The combinations and possibilities are nearly endless, whether you want to create interior, exterior, or event signage. If you're thinking of something creative, there's a good chance we can bring that dream to life. We can create any type of business sign you can imagine, from feather flags and yard signs to window decals, wayfinding signage, and so much more.
At The H&H Group, we love designing, printing, and installing custom business signs that perfectly represent our valued customers and help you achieve your marketing goals. That's why we're Central PA's favorite full-service sign shop! We're ready to boost your brand and create more brand recognition with custom signage.
THE H&H APPROACH TO SUPERIOR SIGN DESIGN AND CUSTOMER SERVICE
If you want your business to grow and know that custom signs can help, but you aren't sure what your first steps should be, turn to the experts! We want your custom business signs to match your vision, so we will work with you right from the beginning to ensure you have the best, personalized signs for your business.
---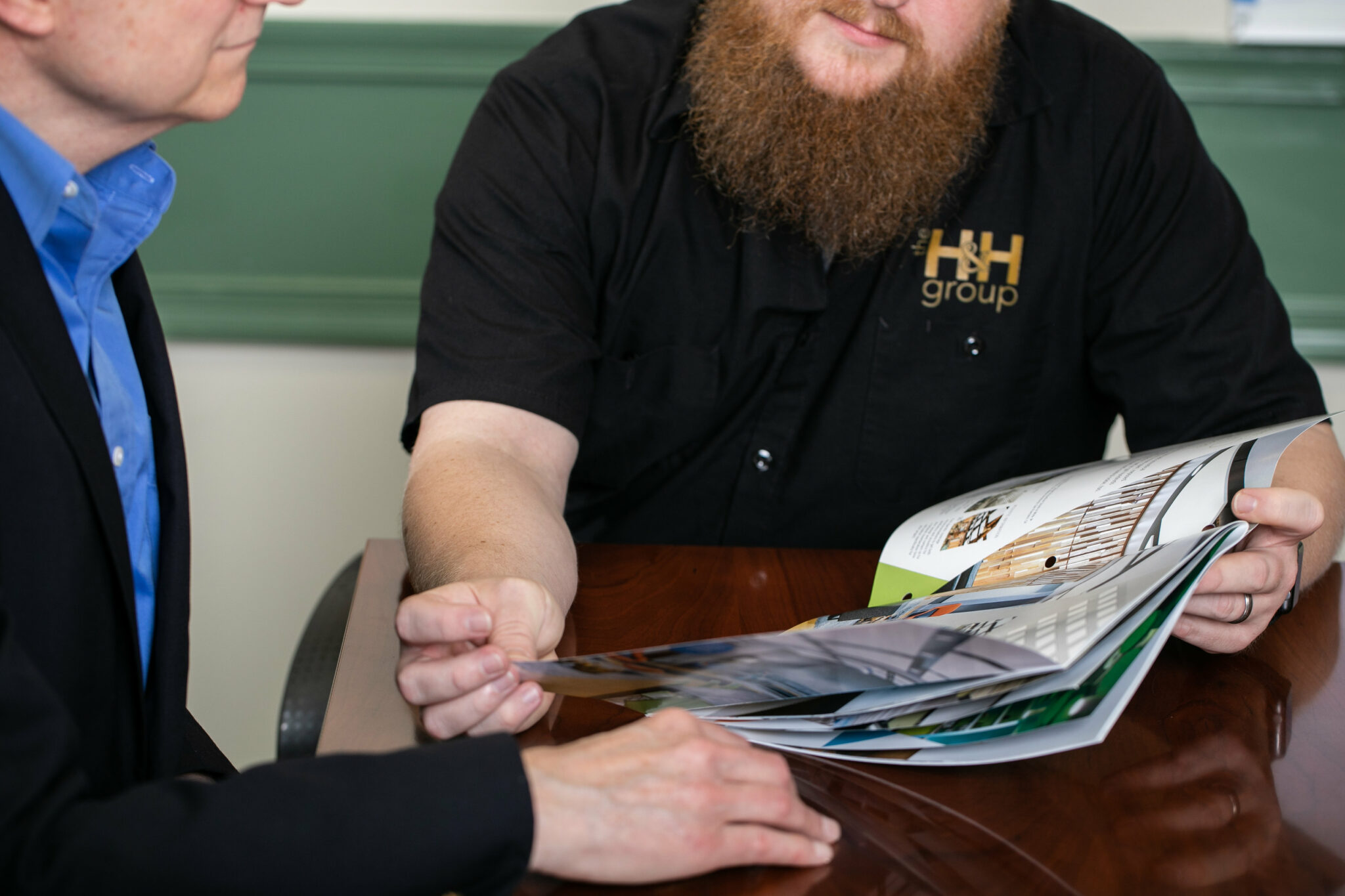 It Starts With a Friendly Conversation
When you want to work with a partner who cares about your business's success as much as you do, turn to The H&H Group. We mean it when we say we are committed to helping your business grow. That's why our signage ordering process begins with a friendly conversation about your goals. After we speak, we can recommend the right custom sign solution or a mix of signage products and services for your needs.
Our Design Experts Create Your Custom Signs
Not every signage option is suitable for every business, and sometimes you will want something we haven't thought of yet! We love creative problem-solving, so even if you're still unsure whether custom signs are the right solution for your business's indoor and outdoor branding needs, we are happy to help guide your decision-making process! No matter your vision for the sign, we can custom-design the piece to match what you want. We work with all types of materials, even vinyl lettering, and we can fabricate signs for almost any location!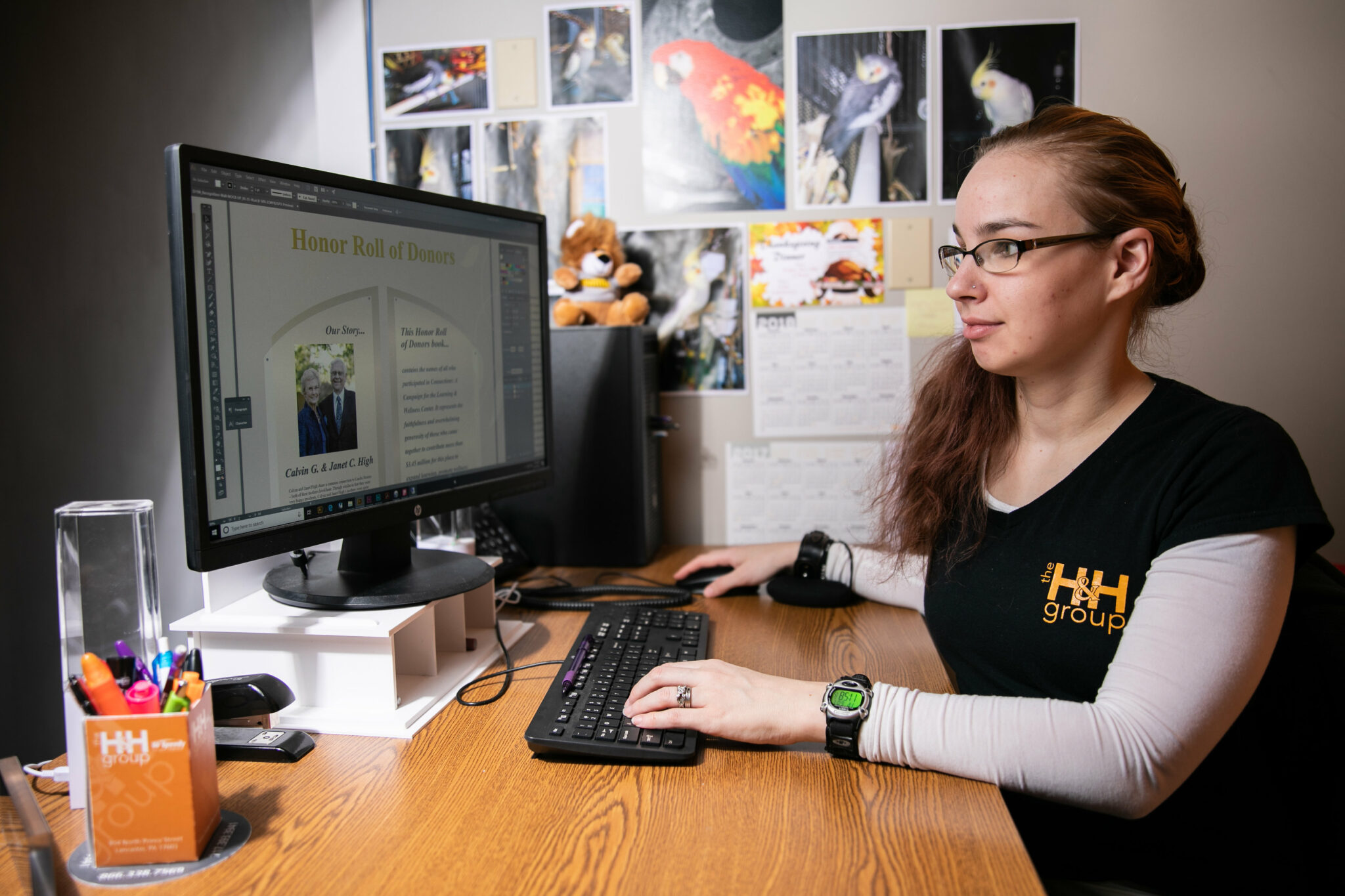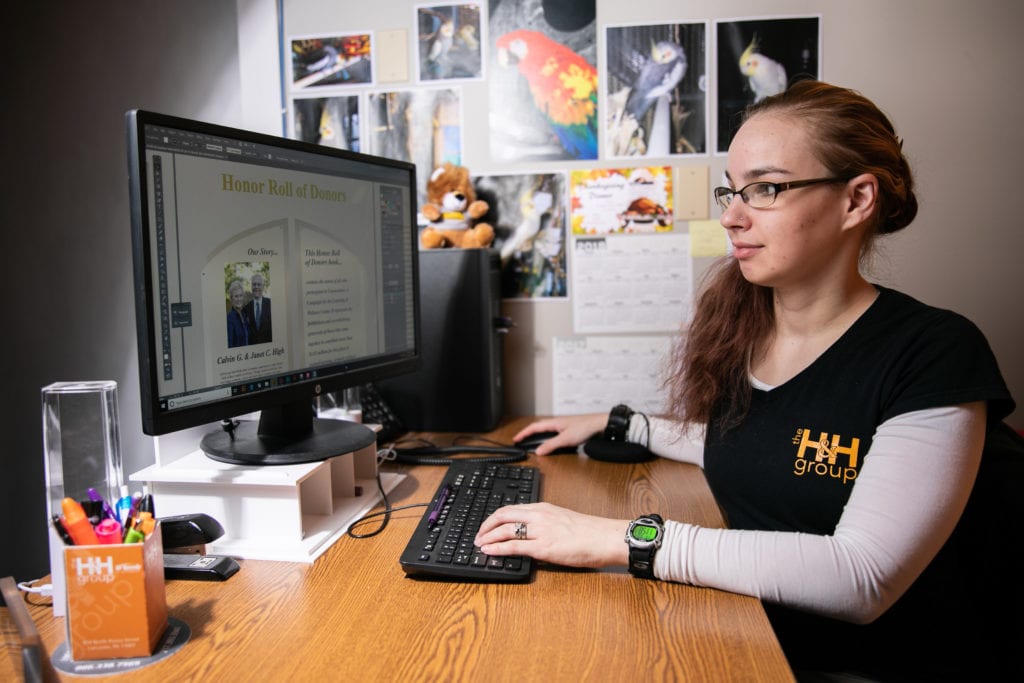 Custom Sign Installation and Maintenance
Don't worry about what happens after you've decided you need new custom signs. You want to focus on the growth of your business thanks to your new signage, so we will take care of everything after you've approved your design. Our team doesn't stop after a custom sign design is finished. We fabricate, install, and maintain your signs for exceptional performance over time. You'll work closely with us to customize a signage installation and maintenance plan that fits your business's schedule and budget!
---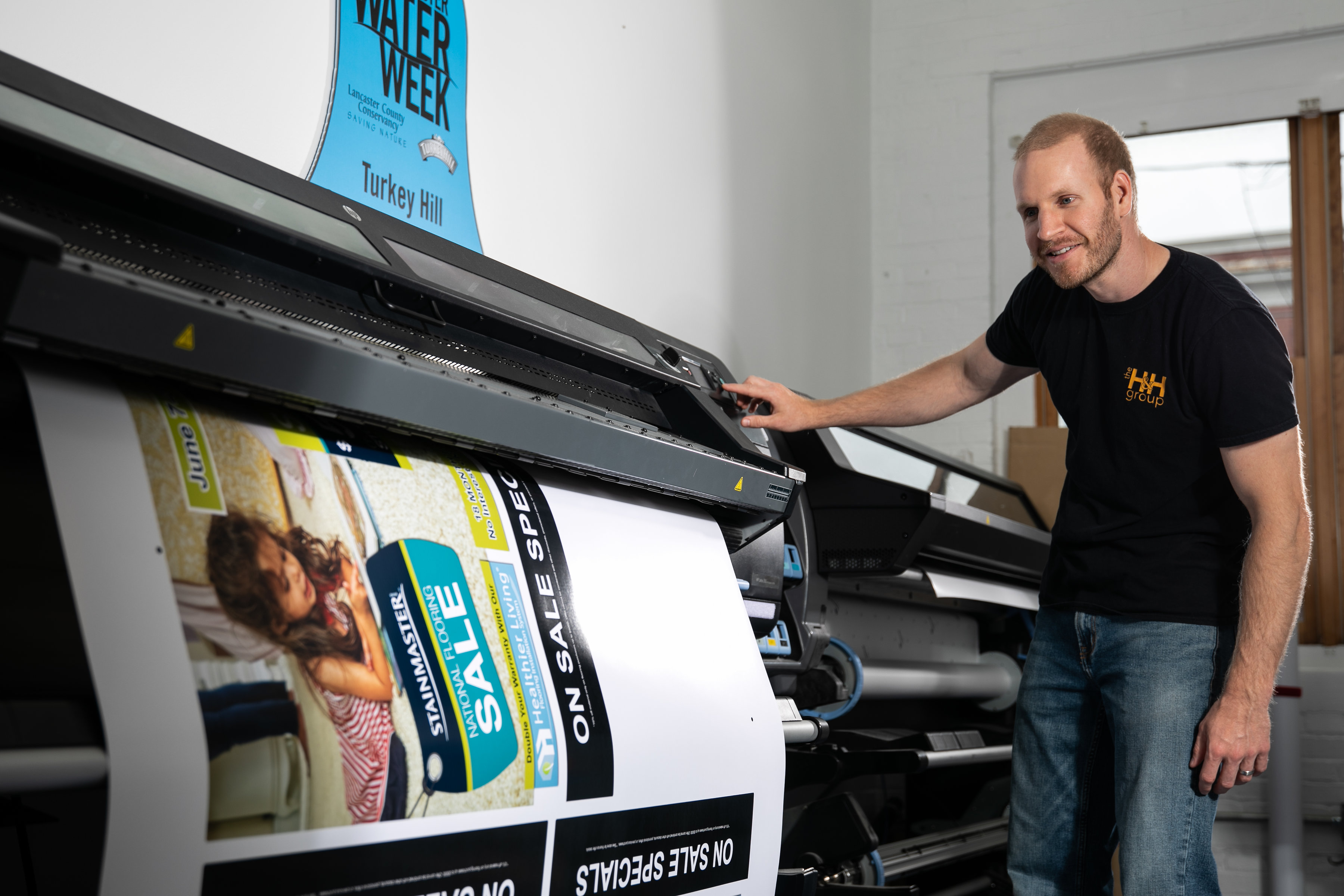 Work With the Best Resource for Custom Signs in Lancaster, PA
Create a memorable experience for your customers with custom business signs and so much more with our resources right here in Lancaster, PA. Our customers choose The H&H Group because we are passionate about helping brands stand out. We are dedicated to craftsmanship and attention to detail in every custom sign we create. We collaborate to work with our clients to help you meet your branding and marketing goals.
The H&H Group is your best resource for custom sign design and printing services here in Central PA. Don't go it alone in creating new business signs of any kind! Our talented team will help you realize your vision while ensuring that your signs are readable and eye-catching, conform to local code rules (for outdoor signs), and so much more.
WHAT'S IT LIKE WORKING WITH THE H&H GROUP?
You value your customers' opinions just as much as we value ours! Here's some feedback from a happy customer about our services. We can't wait to hear what you'll say once you work with us!
---
"Print, Signage, Fulfillment needs? Check, Check and Check.
Great people who listen to your needs and help to create something that is better than your wildest dreams. Great team producing fantastic results on all projects." –Katelyn C. via Google
Get Custom Sign Design Tips & Advice on Our Blog
Want more details about the types of signage we make? Need a laugh while browsing some creative signage ideas? Our blog covers these and many other topics, including the other services offered by The H&H Group. Look through these links and more for some tips and tricks regarding signage, print materials, and any fulfillment needs you might have.
NEED OTHER PRINTING AND MARKETING SERVICES?
Working with many different businesses for your signage, print, promotional, and fulfillment services can be frustrating. When you must remember to communicate with many different shops for different promotional and advertising materials, you may find that the quality of your materials varies greatly or discover other issues. You deserve a one-stop shop for all your promotional needs.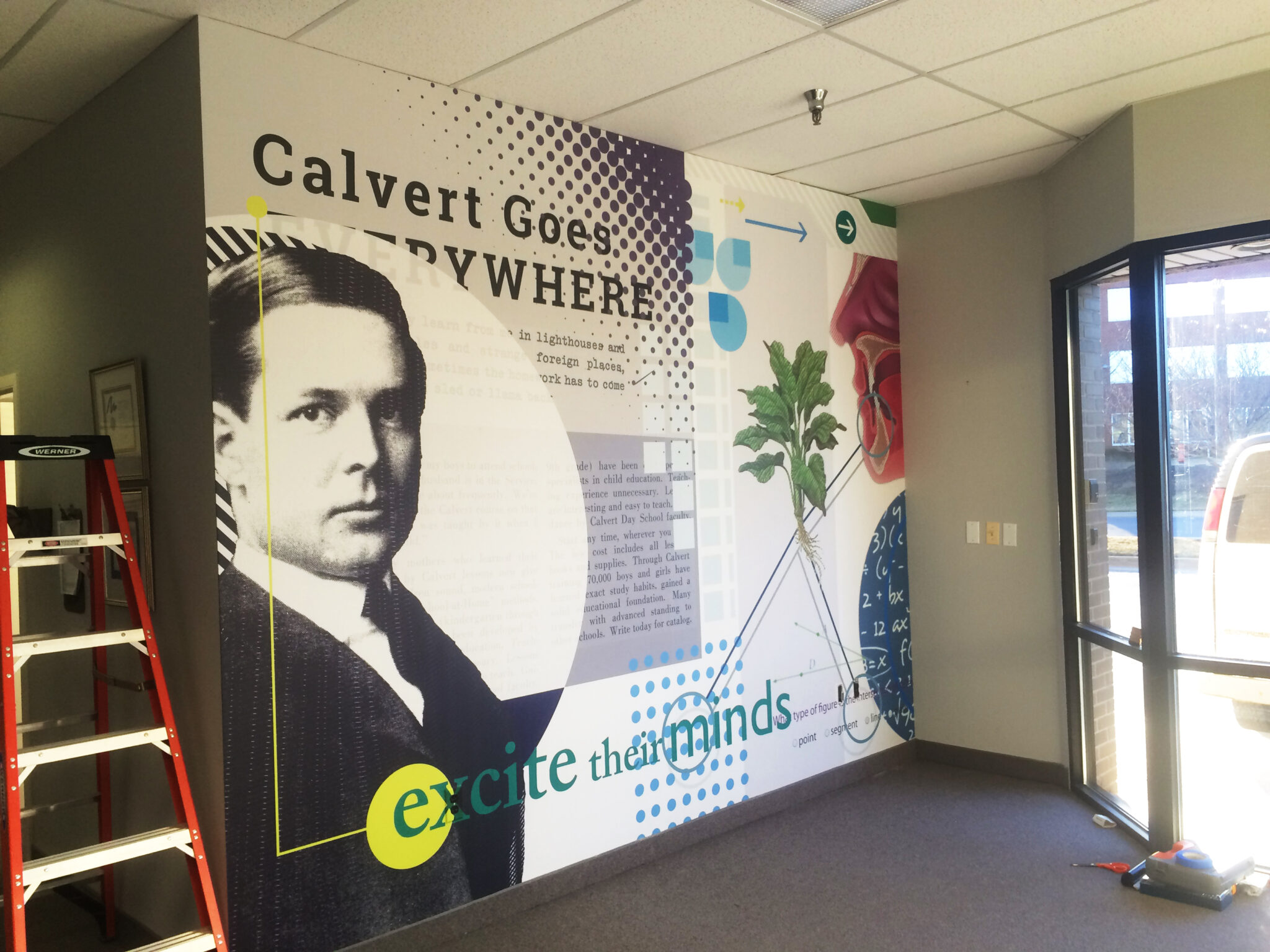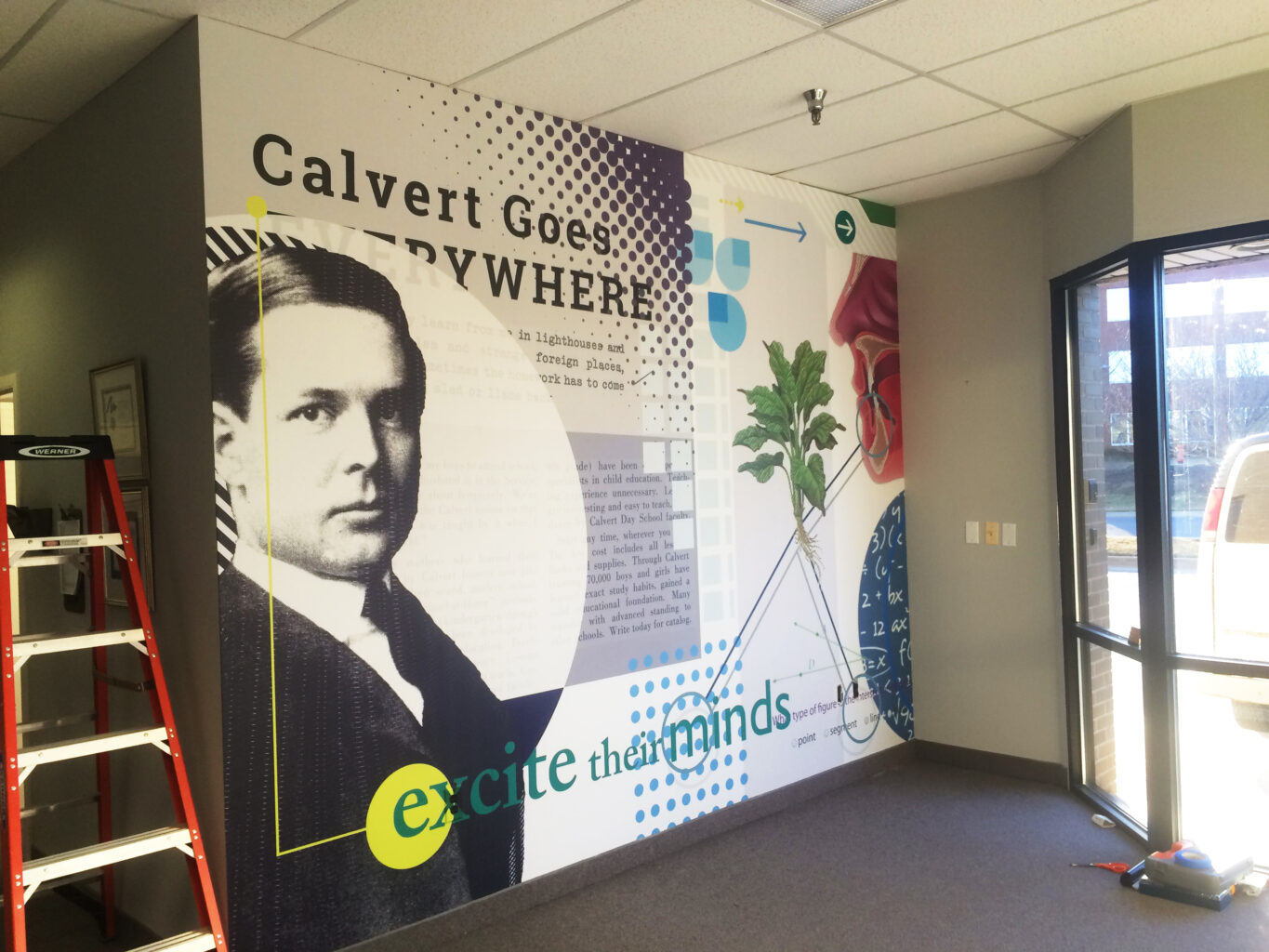 Invest your time and money into working with a company that can take care of everything from printing custom signs to promotional apparel. You can focus on your business and let us handle getting the word out. We offer all these marketing options, and more, so we can take care of spreading the word! From aluminum signs and vinyl decals to creating the perfect promotional materials for a trade show, we can help your business with everything you might need for marketing. Please speak to us today to discover everything The H&H Group can do for your business!