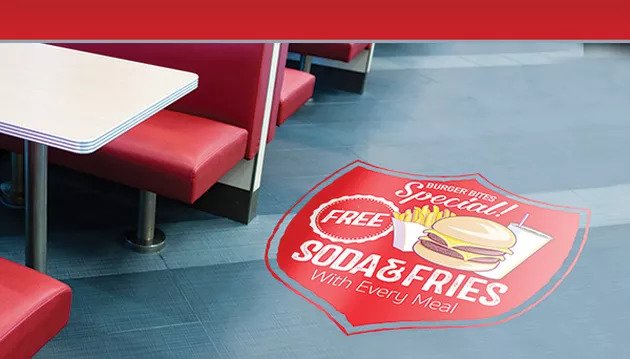 New Opportunities Are Afoot with Floor Graphic Marketing
If you have yet to consider floor graphics for your business, now may be the time. According to SignIndustry.com, floor graphics can increase sales 20–30%!
Reasons for Resurgence
While floor graphic marketing isn't new, it remains among the most effective and affordable parts of a marketer's toolbox, for good reason. Floor graphic marketing works because:
• It's easy, flexible and inexpensive to implement
• It's fun, creative and novel
• Your 'medium' is already in place.
The Psychological Foothold
There may also be a psychological component to floor-based communications. SignIndustry.com cites work by Radford (VA) University psychology professor, Joseph S. King, who contends that attention directed downward sharply focuses consumers' attention, thereby making any content underfoot—words or images—instantly meaningful and relevant.
Whether you subscribe to King's theory or not, floor graphics can have meaningful impact for:
• Branding and awareness
• Engaging and informing customers as they shop
• Influencing purchasing decisions at the Zero Moment of Truth
• Enhancing high-value/ROI in-store promotions
• Finding your way—directional arrows and footprints.