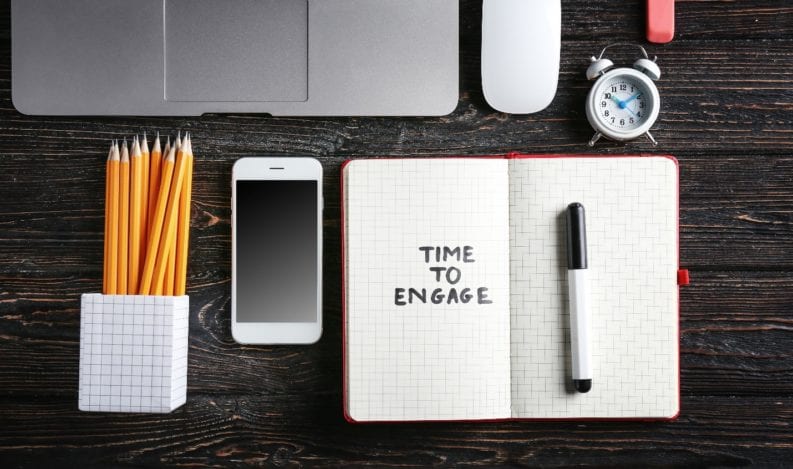 Is Your Engagement Marketing Engaging Enough?
A little while ago, we took a look at what engagement/experiential marketing is, and why your small business should consider these tactics to build your brand—especially if event marketing is a big part of your overall strategy.
To recap, the point of experiential marketing is to encourage your customers to become active participants in your brand. You can do this by creating an activity for your clients—or one you do with them—that is fun or unexpected, and generates a lasting impression.
No, that doesn't mean that you're inviting them to your warehouse to pick orders or for tours of your office. But it does mean building memorable experiences that get people talking and ultimately increase their love for your brand.
Sound difficult? It's not—and you're probably already doing things that qualify as engagement marketing even if you're not calling it by its name(s).
What is a little bit harder, though, is getting engagement marketing right. And that's where today's post comes in. We've got a few good tips for leveling up your engagement marketing that you can work on right away. Read on.
How You Might Currently Be Engaging
As we mentioned, engagement marketing comes in many different shapes and formats. It can offer a fully online experience, like a video game or even a photo submission contest, or it can be totally offline (or maybe a mixture of both, if you want to get really fancy).
If you have a blog or social media accounts that you actively moderate to have direct conversations with customers and fans, you're doing online engagement marketing. And, if you have wrapped vehicles or create standout tradeshow booths, you're already an offline engagement marketer. But how are you using these tools?
Better Ways to Engage
The key is to make your current resources really work for you to delight customers and clients while you also brainstorm new and novel experiences. (By the way, you don't have to go it alone—The H&H Group is here to help you generate ideas!)
Maybe you do like Google in our example from that earlier article and sell cupcakes from your branded trucks, or maybe you turn your tradeshow booth into a lounge where show attendees can hang out and try your products. (Note: these ideas need to make sense for your brand and what you do—if the experience is disconnected from your services or items that you sell, it may not be memorable.)
Invite Audience Participation
The Wikipedia article on engagement marketing—which is not particularly engaging reading, by the way—does offer some great examples of successful campaigns that get audiences involved. The cited experiences are diverse. There's Jones Soda's practice of soliciting user photos that it prints on custom orders—or, if the image is compelling enough—gets put on bottle labels in regular production, which has fans clamoring to submit their pictures.
And then there's the Macy's Thanksgiving Day Parade—perhaps one of the more historic examples of experiential marketing.
The good news is that you don't have to conduct a parade through New York City (or even your hometown) to get great audience engagement. It may be as simple as soliciting user-generated content (UGC) on social media for the chance to win branded gear or exclusive access to something valuable your company provides.
Be Funny or Clever
This can fall flat if humor is not part of your usual brand identity, so you need to understand your image a little bit first. How do you do this? Put yourself in your customers' shoes (or, better yet…take a survey of how they feel about your business) to learn more about how your brand comes across to those who have interacted with it in the past.
You don't have to go all out comedic (and, say, "ambush" your rival's cupcake truck like Zappos)—you can just add some lightheartedness to your tone on social media or invite your fans to submit funny videos for the chance to win a prize.
Consider Working with a "Friend"
Take the opportunity to get friendly with a complementary business in your industry—maybe a supplier or even a good-natured rival—to cooperatively run a campaign that benefits you both. Online retailers are generally good at this kind of marketing, but it's more than just putting your brands' logos in a few emails or sharing each other's social media posts once in a while.
Collaborating more deeply can yield (literally) record-breaking results—and sell a lot of products for everyone involved. See Red Bull & GoPro's partnership for the 2012 Stratos jump event that took place in 2012. Both companies got a lot of traction out of the event over several years, and the advertising world still talks about it now.
Make it POP
So, you don't have the marketing budget of a giant multi-national corporation to afford sending a person into space in the name of advertising. Admittedly, that's pretty rare. What you likely can justify spending ad dollars on, though, is point of purchase (POP) displays.
These are often interactive—check out a few of the examples in our previous post on some of our favorite POP displays—and can be considered effective experiential marketing tactics when they successfully engage customers with a branded experience.
Want to Learn More About Engaging Marketing Tactics? Let Us Help!
Engagement marketing at its best can create a long-lasting impression in your customers' minds. But these experiences don't just happen. At the same time, you don't need limitless budgets to create a standout campaign or event—you simply need some support from the pros.
Here at The H&H Group, we offer a suite of marketing support services—including a library of helpful online resources—that help you be more memorable. If you're ready to make your mark, get in touch with us now!