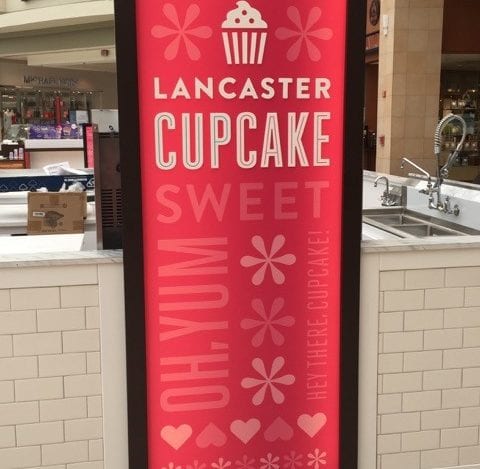 5 of Our Favorite POP Displays
Plus 5 Principles to Help You Create Your Own
Whether you're looking for ways to make your product more visible in retail locations or want to support the launch of a new product with a bit of fanfare, POP displays are a great marketing tool to accomplish many goals, sometimes simultaneously.
But, when it comes to POP displays, many businesses aren't sure where to start. To make things easier, we're taking a look at our favorite POP display types and providing some useful tips you can use for your own product branding.
What Is a POP Display?
Widely used in retail stores, POP (point of purchase) displays are marketing materials designed to increase product sales. POP displays can be used to target a particular holiday or season, promote special offers, announce a new product, or draw attention to products on store shelves.
POP displays come in many forms from shelf signs and dump bins to freestanding displays and end caps.
What is Point of Purchase Marketing?
Point of purchase marketing is the strategy behind POP displays, helping you determine the best way to grab customer attention and sell more.
While product placement on store shelves will result in sales, POP displays provide additional opportunities to attract consumers to your brand. In fact, a 2016 P-O-P Trends survey revealed that permanent POP displays increased product sales by 19%, while temporary POP displays did even better with an almost 24% increase in sales.
According to a recent article published by The Balance SMB, "When you consider that some 70 percent of retail purchases aren't decided until the customer actually is in the store, it's clear what impact something as simple as a POP display can have."
What is the Difference between POP and POS?
POP (point of purchase) and POS (point of sale) are often used interchangeably. POP is the broader term, referring to a retail location as a whole, while POS is used to describe the specific location in a retail store where the actual purchase takes place, such as the checkout line.
For our purposes, we'll discuss strategies and focus on examples of the broader term POP, though any of these strategies could be used to design purchase displays for point of sale areas specifically.
Our Favorite POP Display Types
While there are an almost endless array of ways to grab attention and feature your brand using POP displays, some point of purchase display types are better than others. Here is a rundown of some of our favorites.
Floor Graphics
Floor graphics are designed to attract attention and are most effective when they are placed in front of the shelf where your product is stocked so customers can easily locate it.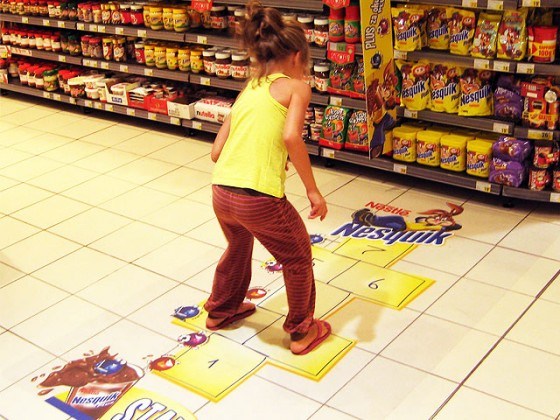 This creative floor graphic for Nesquik is cleverly designed to attract attention using a fun game that appeals to kids. The graphic leads right to a variety of Nesquik products on the store shelf, encouraging more product sales.
Shelf Talkers
Hanging signs on store shelving are referred to as shelf talkers. They are designed to catch the customer's eye and make a brand or product stand out from similar products on the shelf.
Shelf talkers are also great for highlighting special promotions or educating customers about specific benefits over a competitor's product. Also known as "hang-tags," shelf talkers are one of the most cost-effective ways to gain attention and increase sales.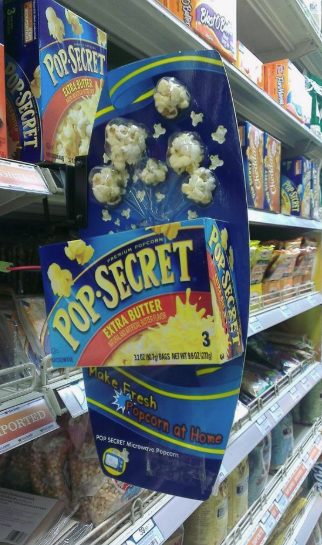 This clever shelf talker, featuring Pop Secret popcorn, draws attention with its 3D design, making you feel like you can reach out and touch the freshly popped kernels.
Dump Bins
Most often used for small items or special promotions, dump bins are display fixtures designed to encourage buyers to grab multiple items. Products are often displayed in large quantities, sometimes at bargain prices.
The best feature of dump bins is that they are freestanding and can be placed in the most strategic locations and accessed from all sides. Dump bins also provide plenty of real estate for brand messaging, so advertisers can get creative.
This dump bin display features several Frito Lay products, along with product pictures and special pricing to encourage shoppers to grab and go.
Freestanding Displays
Freestanding displays are one of our favorite retail displays, providing lots of flexibility in placement and design. Some of the best displays incorporate the shape of the product in their design and provide plenty of space for attention-grabbing benefits. Plus, they provide the added opportunity to display your product in high-traffic areas without the need for additional shelf space.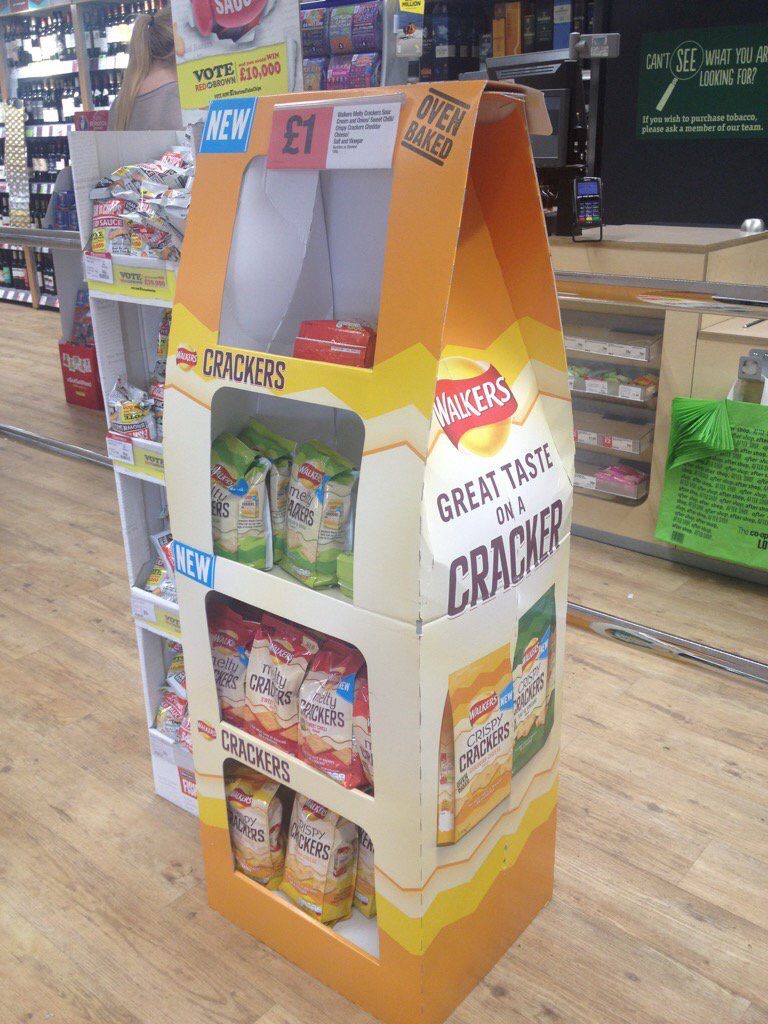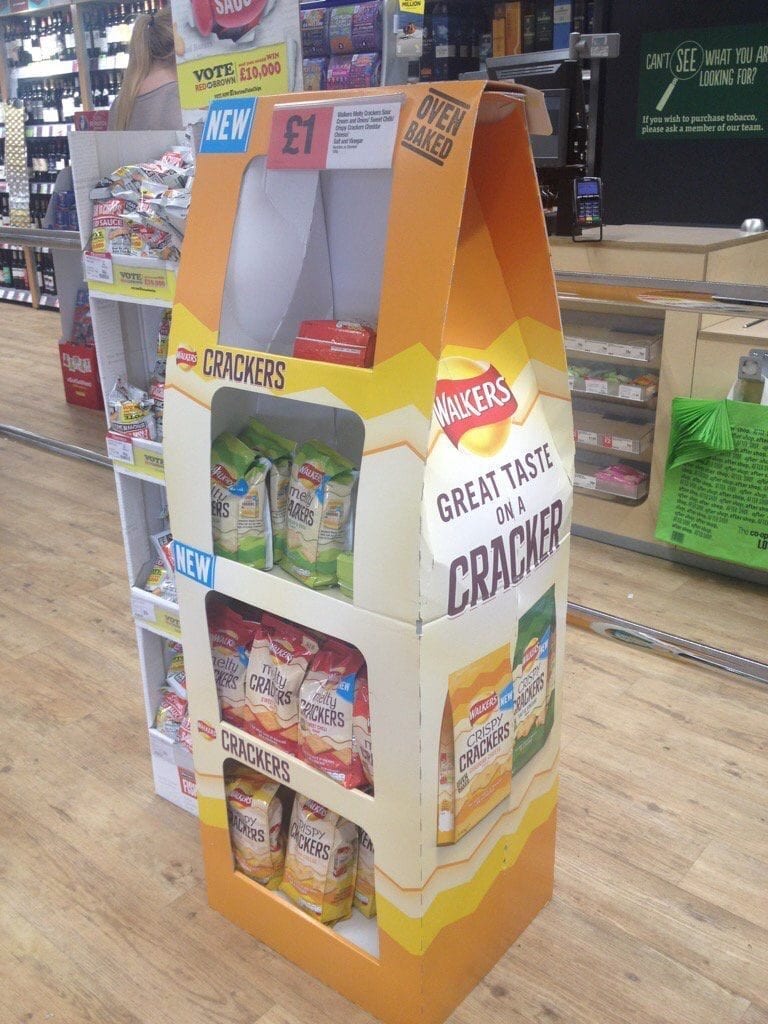 This freestanding display for Walkers crackers is a perfect example. Notice how the entire display is shaped like the bags of their crackers, while featuring individual shelves for multiple varieties. The words 'Oven Baked' are prominently displayed, highlighting a key benefit to health-conscious consumers.
End Caps
The in-store display that consumers are most familiar with is the end cap, a display placed conveniently at the end of an aisle where two aisle shelving units meet. Like freestanding displays, end caps provide the opportunity to place your product in high-traffic areas without the need for additional shelf space. They also attract a lot of attention, since most customers will need to pass them while on their way to other locations in the store.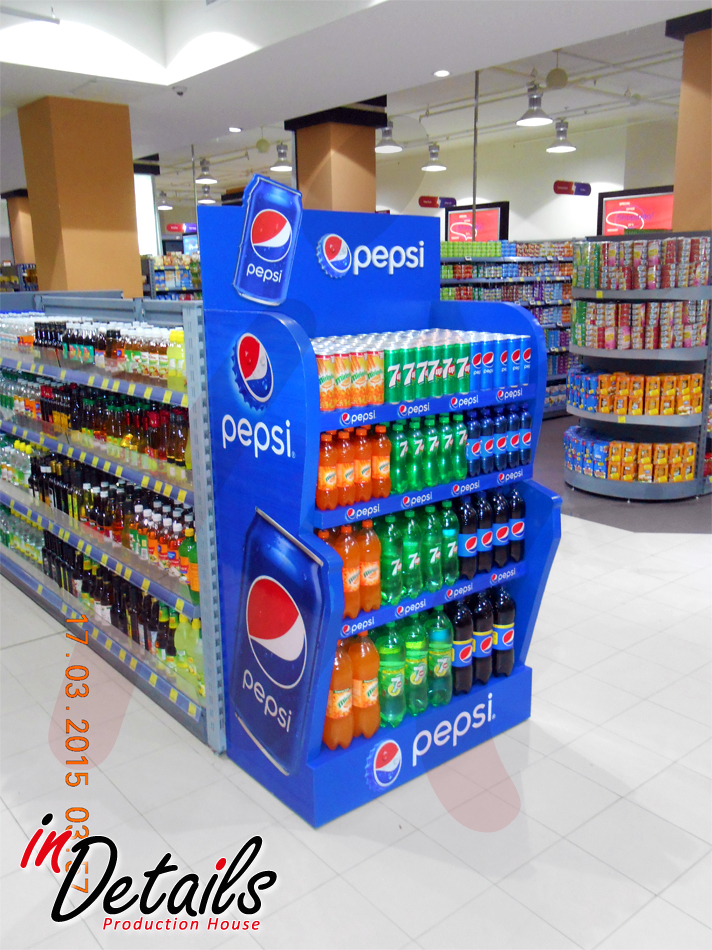 This end cap, featuring Pepsi products, grabs attention with prominent pictures of the main brand, along with several varieties of Pepsi products arranged in a pleasing, colorful display.
What Your POP Needs: POP Design Principles
Now that we've shown some examples, it's time to get started on your own POP display. Here are some useful tips to keep in mind when it comes to designing a killer display that boosts your brand.
Color Matters
Choose colors that communicate the right vibe. Warm colors often trigger impulse purchases, while cool colors might represent health or calm. Knowing your target customer is key to creating a compelling color palette that resonates with your audience.
Clear Messaging
Your messaging needs to be simple and direct, clearly communicating the main benefit of your product in 5 to 7 carefully chosen words.
Make It Relatable
One of the best ways to connect with potential buyers is displaying people or character faces front and center. Customers need to see themselves using your product.
Displays Must Be Intuitive
Interactive displays that use sound, motion, or scent to grab attention should be easy and intuitive to use. Include direct messaging such as "Press Button" or "Feel the Softness" to encourage customers to take a desired action.
Simulate Benefits
Clearly illustrate the results customers can expect by using your product. Remember to show, not tell.
As you can see, there's a lot that goes into successful POP displays that grab attention and boost sales. The good news is you don't have to figure it out on your own.
The experts at The H&H Group are here in Lancaster, PA to help you create amazing POP displays, signage, and much more with a collaborative and creative team that loves new challenges. Serving Central Pennsylvania and beyond since 1973, we'd love to talk with you about what's next for your POP marketing.