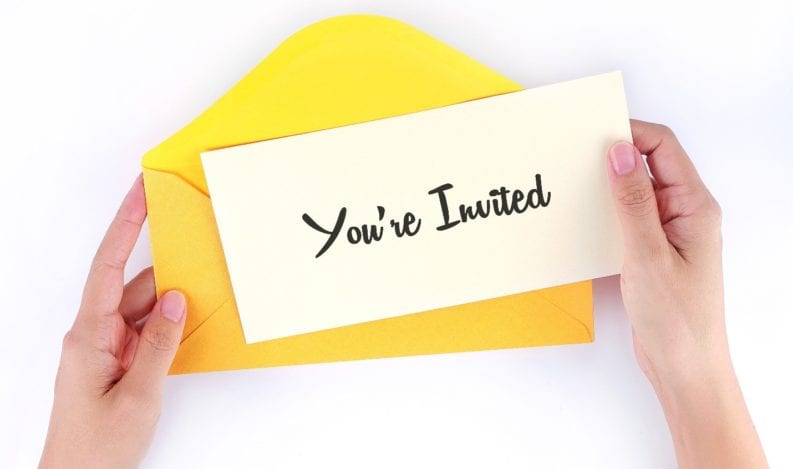 How to Improve Your Event Marketing With Better Event Invitations
Creating the most significant trade show and event marketing display elements—from banner stands to signage to entire trade show booths—is something that we do better here at The H&H Group. But, what about the seemingly small details (that really aren't so small)? Things like custom name badges and other print collateral, as well as your event invitations?
There's no question—we can help you with all of the above! And today's post features perhaps the most important of these details, which can really make or break the success of your entire event marketing strategy—the right event invitations.
These are the things you need to consider as you get ready to work that guest list for the first time.
Event Invitations by Mail vs. by Email
Once you know who you're planning to invite to your event, whether it's a trade show for a specific profession, a nonprofit fundraising dinner, or a small training workshop hosted by your business, it's time to send formal invitations to prospective event attendees. And, your first question is probably, "how?"
In the old days, you really only could invite people by traditional postal mail—or, less ideally, by phone. However, email marketing technology has gotten to the point where just about anyone can quickly and easily leverage advanced tools like address list management and HTML-based message design and composition. This means you may be able to skip the post office for your event invitations altogether!
After all, mailed invitations are great—especially for very formal events like those fundraiser dinners we mentioned—but they also require a healthy amount of lead-time in design, printing, and mailing. (Of course, utilizing a single vendor for every piece of the fulfillment process is incredibly efficient.) They can also be cost-prohibitive, as mailing to a large physical address list can get expensive for event planners with small budgets.
Meanwhile, emailed invitations are flexible for sending up until the last minute, but they have a greater chance of getting lost in recipients' crowded inboxes. Plus, you need to have a landing page that the email points to. This customized website location should have the ability to accept RSVPs or registrations right there on the page, too! The good news is, this doesn't have to be a formal page on your existing website—it can be an Eventbrite page, Facebook event page, or something similar.
You Can Also Choose Mail AND Email Invitations!
Lastly, you might choose a hybrid event invitation option. Say, send mailed invitations to VIPs, and emailed invitations to other groups of potential event attendees. Or, mail save-the-date postcards and create an email-only invitation later.
Just remember, no matter which event invitation tactics you ultimately choose, here in the 21st-century, you need somewhere on the web where prospective attendees can find event info. Check out our previous post on how to digitally market your event for more on why this is so critical.
Personalize Event Invitations for Different Target Audiences
As we noted in the previous section, sending different batches of event invitations to different groups of prospective event attendees can be a practical/budget-savings decision. But you can actually use this strategy to your advantage, since tracking RSVPs can be much easier for smaller groups instead of for one big pool of invitees who all got the same invitation.
Additionally, personalization—which is relatively simple with either emailed invitations or print invitations that utilize variable data printing—has become a marketing best practice that makes your recipients feel more connected to your brand. These good feelings can translate into better attendance at your event!
A Few Big Invitation Must-Dos That Get Missed Surprisingly Often
When you're designing event invitations in any format, there are some essential pieces of information you need to include. There are also several key decision points, such as when to actually send the invitations, that you cannot neglect if you want your event marketing to be successful.
Consider the Timing for People to Plan Ahead
If you do not plan to send a separate save-the-date mailing—either by postal mail or email—you need to ensure that you're giving your prospective event attendees enough to time plan every aspect of taking part in your event. This includes making travel arrangements.
Especially if your event is a big trade show or convention to which attendees may be flying across the United States to attend, you need to begin planning about a year ahead of time, according to advice from actual convention venues. You should start the invitation process between about 6 months and 3 months out.
Remember to Discuss the Event Location
Interestingly, the "where" of an event gets forgotten quite often. Often, this is due to not having a venue confirmed by the time you must get invitations out the door to adhere to our first tip above. In these cases, you can note "TBA" for the event location, but then you must remember to follow up with an additional mailing or broadcast advertisements when you do finalize the venue.
Sometimes, the event location simply just gets missed. Or, you might record a street address, but later discover that people's GPS systems or Google Maps are misdirecting them. (Yes, this actually happens!)
Be sure to include as much location detail information as possible in your invitations. Better yet, direct potential attendees to a landing page online that you can easily update if/when location information changes.
Include Information to Help Your Attendees Make Travel Plans
Do you have a hotel block of rooms that you've reserved, or are there any other specials for your prospective attendees? Let them know within your invitations!
Anything you can do to remove the hassles from finding a flight, booking a hotel, compiling their travel into a budget request to their boss, etc. will help make it easier for your invitees to become attendees!
Promote a Headline Speaker or Other Event Highlight
If you already have a headline speaker for your symposium or a special celebrity appearance lined up for your industry trade show, don't forget to mention this in your event invitations. This kind of "bonus" incentive alone can be the main reason some invitees decide to attend your event, even if it is not the primary purpose of your event.
Don't Forget to Send Reminders
Once you get down to about a month or a few weeks out from your event, send reminders to both your registered attendees/guests who have submitted an affirmative RSVP and to those who haven't responded. (Again, email marketing platforms will make it easy to send personalized reminders to the different groups.)
If your event is a trade show that attendees must pay to enter, for instance, you can often turn some of those non-responders into paid attendees by offering a last-minute admission fee discount or other deal!
When You Need Help Marketing Your Next Event, The H&H Group is Here for You!
No matter how small or large the scope of your next special event, The H&H Group is Central PA's favorite resource for event marketing display elements, print collateral, and good old-fashioned advice to help you reach your goals—before, during, and after your event.
Get in touch with our talented team of event marketing professionals today to discover the difference The H&H Group can make in your marketing efforts.