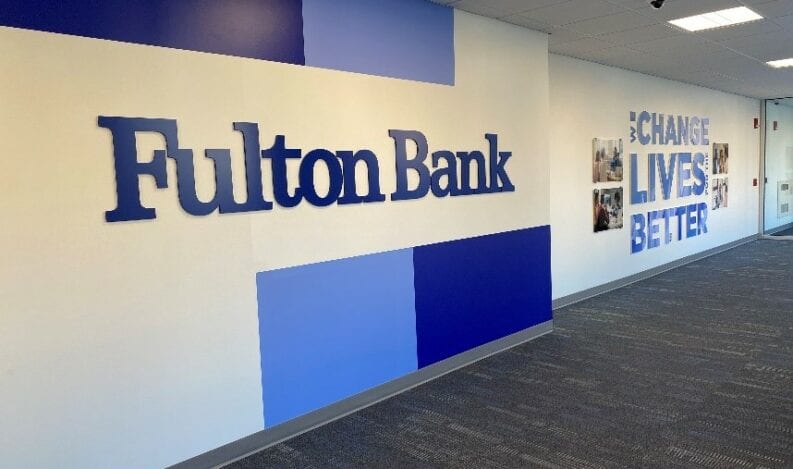 Now—Yes, Now—is the Perfect Time to Revamp Your Interior Branding & Indoor Signs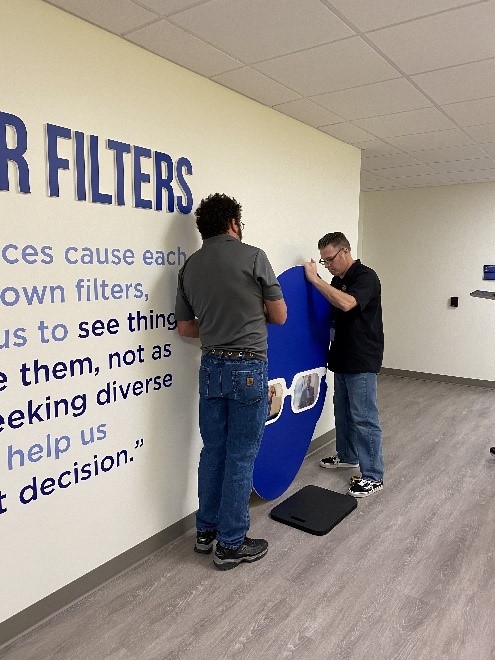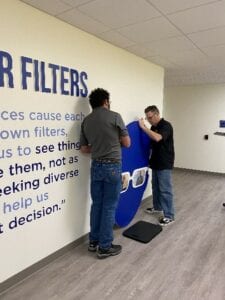 Interior signage and so-called "environmental branding" projects are some of our favorites to work on here at The H&H Group. Why?
Well, branding your business's interior spaces with things like timeline walls, eye-catching door signs, graphics and murals on walls, floors, and even ceilings can absolutely transform your physical environment.
You really want to communicate your brand to people visiting your building. Interior signage gives you that opportunity.
Now—with the reduced physical presence and traffic in most business locations because of continuing COVID-19 restrictions—is the perfect time to revamp your spaces!
Environmental branding elements can be installed quickly and are always fully customized to fit your budget and your vision.
But that's not all.
Express Your Business's Personality
Interior signs give you a chance to show a sense of humor or illustrate other company culture and values in a visually impactful way. And There are plenty of other advantages that come with environmental branding.
For instance, the photos throughout this post—from our recently completed work in Lancaster-based Fulton Bank's corporate headquarters—illustrate precisely how plain, blank walls can be converted into impressive company messaging displays.
The Biggest Benefits of Branding Your Interior Environment
As we mentioned, there are so many great reasons to enhance your interiors with customized messages and visuals that express your business's personality. These are some of the best ones.
Provides another fantastic opportunity to communicate a message or tell a story
Have you heard of multichannel marketing? If so, you probably know that digital platforms, print media, and direct mail are all great "channels" for spreading the word about your business.
But did you know that a properly branded physical location is another critical marketing channel? If you have a storefront or showroom—or even a corporate office like our friends at Fulton Bank—you have a premium marketing channel that you may be underutilizing today. We can help you get the right interior branding elements in place!
Creates a memorable and emotional connection to your brand—for visitors and employees alike
Sharing your messaging with customers and visitors is crucial, but don't forget about your most valuable brand advocates—your employees.
Reinforcing your mission, vision, core values, and other differentiators that make your business stand out from the competition should be a priority, but having endless meetings about such things isn't practical or inspiring. Interior signage can play an important role in continuously keeping your business's promises and values top of mind for employees.
Environmental graphics create dynamic spaces that inspire
When you want to do more than just decorate a space with murals and wall graphics inside your business, remember that sharing stories of your company's success can be transformational. Interior signs are an excellent storytelling medium. Consider putting up a case study display in your public areas to illustrate information about the superb work you've done or amazing team accomplishments.
The H&H Group is Central PA's Most Capable Environmental Branding Resource
Want to create a strong visual declaration of your brand, corporate culture, and beliefs in your business location? Our talented team at The H&H Group is ready to help you design and install a display or displays that will truly impress and inspire your visitors and employees.
Discover our past projects and success stories, or simply get in touch with us today to begin collaborating on your next environmental branding project.