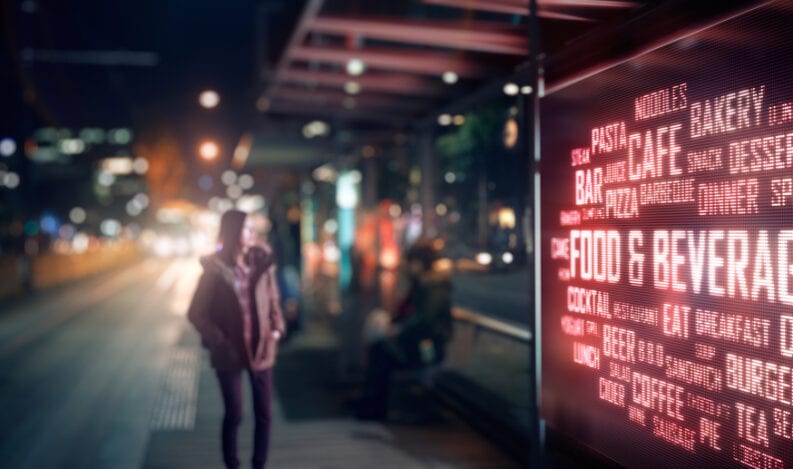 How Effective is Your Digital Interior or Exterior Signage? See the Stats Today!
In 2020, the digital signage market was valued to be worth approximately 21.49 billion dollars. That's a lot of money for a market that is often glossed over by businesses trying to cut corners on marketing costs. We talk about the importance of exterior (and interior) signage here at The H&H Group, but we also keep a pulse on how future changes could affect your marketing, as well as our business.
For example—as popular as digital signs are for businesses, it's no surprise that the digital signage market is expected to improve over the next few years. In fact, it's predicted that the market will increase at a compound annual growth rate of 7.5% between 2021 and 2028. So, how exactly will that affect your business?
Are your signs outdated for an ever-growing digital world? Does your business hold its own against rapidly changing technology? Or maybe you're simply looking ahead to see what type of outdoor signage you should be looking for when you upgrade? No matter which scenario suits you, we'll be taking a deeper dive into some of the statistics surrounding the digital signage market and how we see it affecting our business and yours going forward.
How Exterior Signage Trends Are Changing
Most people say that we're turning into a digital world, but the fact is, we're already living in a predominantly digital world. Even before COVID-19, remote jobs were on the rise, and most communications were—and continue to be—done digitally. So, what exactly is changing if we're already in the "future" as far as technology is concerned?
Well, while traditionally created signage (think billboards, trade show event signs, etc.) are still in use, consumers expect businesses to "wow" them. And the trends are showing that the "wow" aspect usually comes from digital exterior or interior signage.
Types of Signs Making an Impact
Here at The H&H Group—and across the signage market as a whole—we've seen that the demand for digitized sign displays is rapidly increasing. According to statistics, video walls held the largest market share in 2020 at a whopping 27% of the market. In addition, LED screens are emerging just as quickly thanks to their energy use efficiency and higher quality resolutions—we'll likely see an even higher demand for these in the upcoming years.
While the market continues to expand more into the digital, here are just a few more of the sign types we've seen emerging:
4k Digital Signage: This type of signage is usually embedded with software or a media player, making it an extremely affordable digital exterior signage option.
LED, LCD, UHD, OLED, etc.: The advancements made in these technologies have helped strengthen the digital signage industry growth.
Other Advanced Products: We have smart TVs, so why not intelligent signage that can be accessed remotely? We've seen a higher demand for products that "require digitized information management and guidance."
For a better visual representation of these statistics, refer to this graph from Grand View Research. This graph shows us the digital signage market size by screen type from 2017 to 2028 in billions of dollars. Video walls, video screens, transparent LED screens, digital posters, and digital kiosks are all going to continue to grow—so how will this affect your business exactly?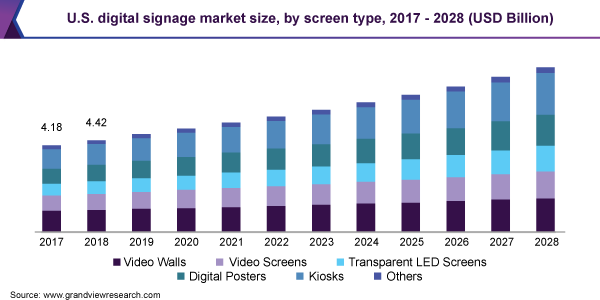 The Future of Digital Signage
Depending on the type of business you're in, you may only require one or two types of interior and exterior signage. With that in mind, you still should consider taking your signage to the next level within the next few years. With the way trends are going, consumers will continue to have a higher need for everything digital. Over the next few years, we suggest you take a closer look at what parts of your business you can change to digital in order to match the rising trend in technology.
If you're not quite ready to completely change out your signage, you should at least consider a few software updates or tweaks. As professionals in marketing and branding, we want what's best for improving your business with the signage, graphics, and more that we can provide.
Let The H&H Group Guide You Through the Future of Digital Signage
The future is never certain, but our team is confident they'll continue to stay dedicated to always staying on top of the current and upcoming trends for interior and exterior signage. We want to see opportunities or roadblocks coming so that we can help you navigate your business's branding with effective signage, promo items, or any other form of event marketing. Basically, we'll stay on top of trends, so you don't have to worry.
If you're ready to take your exterior signage to the next level, contact us online, and we'll get started on your project. At The H&H Group, we're more than just printing or fulfillment services—we're the marketing solution you need to amplify your brand!