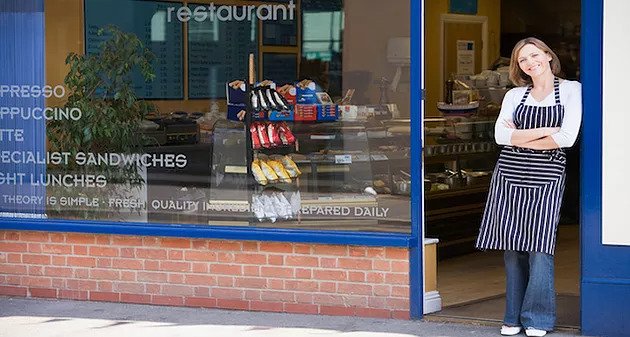 The Five Types of Signage No Retailer Should Be Without
Even as advertising and marketing increasingly goes digital, some things may always be analog, like signage for your business. And physical signage is arguably even more important than a website, since it can help connect with people who may not have even considered your business otherwise.
These are the five essential signs that can help you show, tell and sell.
1. Outdoor Signage
This includes marquee signs and anything else that drives foot traffic, such as awnings, sidewalk signs, "store hours" signs, and even those people who stand outside of businesses and twirl directional signs. Speaking of sign spinners, did you know there's actually a sign twirling school and even a yearly spinning competition?
2. Informational Signage
Informational signage gives direction or information, such as where the restrooms or cash wrap is, or how many items are allowed in the fitting room. These signs effectively help customers navigate through your store and shopping experience.
Menus and menu boards are a whole other story and an exact science unto themselves.
3. Persuasive Signs
These signs can be used to draw attention to certain items or promotions to "persuade" your customer to purchase. They can include shelf-talkers, merchandise hang-tags, point-of-purchase displays, and anything else that points out specific merchandise or a promotion. Persuasive signs can create a higher perceived value, increase brand awareness, and even drive better sales.
4. ADA Signage
Signs that inform disabled patrons of your accommodations create an inclusive environment– and, depending on which state you're in, they may be required. Learn specific guidelines here.
5. Mats
You need them around your store for comfort, safety, and cleanliness; why not add a marketing message? Mat messaging should be simple and uncluttered, perhaps even no more than a logo or a few words.
And while you're looking down, consider floor graphics, a hybrid of mats and informational and persuasive signage. These novel, colorful graphics focus consumers' attention and may even boost sales by up to 30%.
Don't Forget Your Branding
When you're creating any of these signs, remember to follow best practices:
Stay within your brand guidelines for colors, fonts, layout, and imagery
Be clear about your message
Use type big enough that it can be read from an appropriate distance
without squinting
Use a specific call to action
See Signage Done Right
To see a stunning example of what well-executed signage can do, Trader Joe's is practically a case study. Their delightfully low-tech signs regularly inspire patrons, besides providing fodder for integrated marketers.