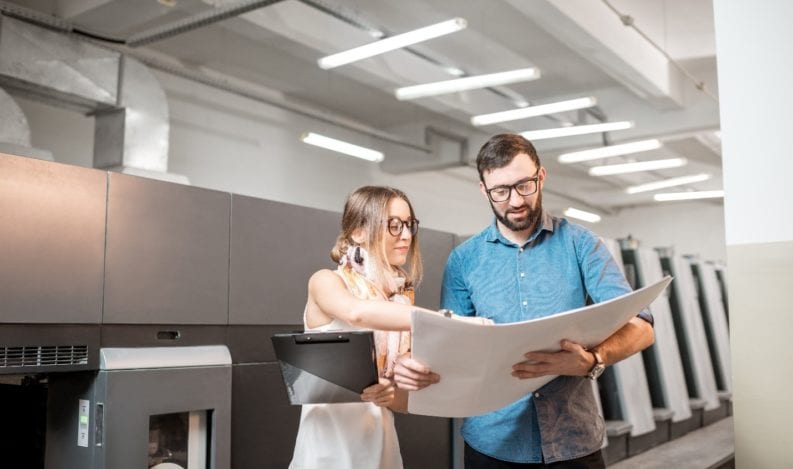 Growing Print Industry Trends to Look for in 2020
The printing industry is growing and evolving at a fast pace because of technological advances and print businesses looking ahead to trends and customer needs. At The H&H Group in Lancaster, Pa., our team of experts stays on top of print industry trends to bring you the highest quality printing services for your print projects.
According to the Printing Industries of America, by the end of 2019, the print industry should see up to a 2 percent increase in revenues. Even with the growing trend to go paperless and the increase in e-books and other digital publications, the printing industry has been seeing yearly growth since 2011.
The Continued Growth for Digital Printing
Printing digitally does not require printing plates and the setup time that traditional offset printing requires. Because of this, digital printing continues to grow in popularity for printers and customers. The faster turnaround times, more flexibility, and the increase in personalization capabilities push digital printing forward as technology advances.
At The H&H Group, we use digital printing technologies for many projects and expect to see an increase in digital printing as more companies require shorter runs or print pieces on non-traditional materials. However, we can help you determine if digital printing is the best option for your printing project or if offset printing will be the most cost-effective.
Expansion of On-Demand Printing
Traditionally, print shops would not print just one copy or a small run of any print piece. The labor and time involved in the offset printing process made single-copy and short-run pieces expensive and out of reach.
Digital printing capabilities made on-demand printing services a possibility by being more cost-effective and efficient. On-demand printing is now easier than ever with digital printing capabilities and technological advances.
Increased Personalization
Emerging trends—like short-run custom print pieces or self-publishing—require an increased level of personalization, and on-demand printing capabilities provide just that. The demand for increased personalization continues to grow as technological printing advances create more project opportunities for individuals and businesses.
On-demand printing pieces include posters, flyers, invitations, and other materials that require a short-run or specific customizations between each run or each copy.
Improved Flexibility for Customers
Every year, new printing capabilities bring more flexibility to customers, and 2020 print industry trends don't look any different. As technology advances, you can expect faster turnaround times, more print material options, and the ability to create better custom marketing materials.
The ability to print with more flexibility for customers will open the door to more print opportunities that were not available before because they were too costly or time-consuming.
Move Towards More Simplified Designs
The minimalism trend continues to hold steady in our society as we see it more often in art, architecture, and even our lifestyles. It is no surprise that we see minimalism and simplified designs in print materials, and expect to continue seeing it increase in popularity in print industry trends for 2020.
A simplified design may create fewer barriers when printing. It may incorporate less clashing colors and graphic elements that could cause printing headaches. Especially with digital, on-demand printing, where color is sometimes an issue, a simplified design eliminates some barriers from design to print.
Adding AI to Printing
AI (artificial intelligence) is exploding into every aspect of our lives—think Apple's Siri, increases in factory automation, or Amazon's Alexa—and the print industry is not exempt from the growing use of AI.
The use of AI in printing makes a printer's job easier by offering real-time data and production alerts, press automations, suggestions for equipment maintenance, and can even help protect our networks against security breaches.
Since many new printers work through Wi-Fi or at least have Wi-Fi capabilities, AI also allows mobile printing and automatic software updates or patches.
Increased Support for Sustainability
On-demand printing for customized materials like packaging includes a level of added sustainability because you only print what you need when you need it. You no longer have to print large quantities to keep the price down. And if you need to make changes down the road, you will have less wasted materials.
Have a Printing Project Coming Up? See How We Can Help!
We at The H&H Group in Lancaster, Pa., know how to help get your print job done fast and efficiently. Reach out to us to request pricing for any printing needs you have, and see how our services can improve the way you do business.