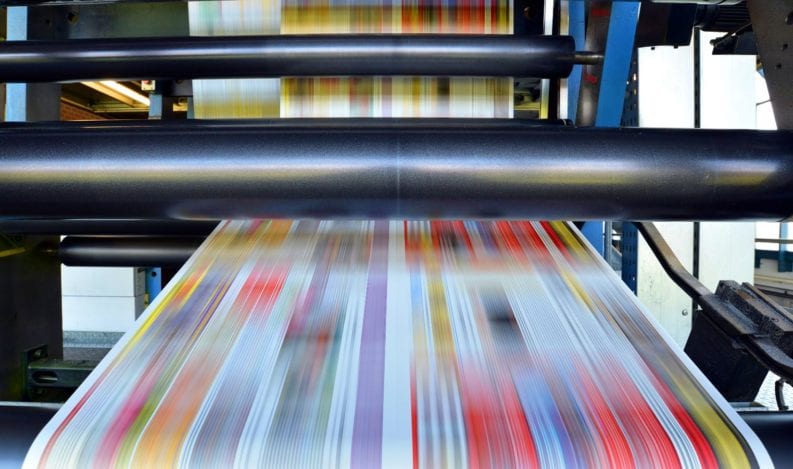 How to Know What Printing Services You Need
When it comes to printed projects for your business, you probably have a lot of questions. You know that there are various types of printing processes, but how do you choose which one is right for you? At The H&H Group, we always take the time to determine how to best communicate your business message through print, but we also understand that you're going to want to know the reasoning behind the method of printing we help you choose.
Regardless of what type of printing project you have, The H&H Group can help. Let's take a look at the two main types of printing we do here at H&H and consider whether or not they're right for your project.
Digital Printing
If you've used a laser printer at home or work, you have likely already experienced the versatility of digital printing. From letterhead and cardstock, to fabric and t-shirts, the digital printing process has a wide range of flexibility. With improvements to technology always growing the digital printing industry, this method of printing has become more and more popular over the years. Nowadays, it's commonly used for products like business cards, mailers, letterhead, envelopes, invitations, flyers, and other short-use printing projects.
How Does Digital Printing Work?
What makes the digital printing process so easy and versatile is that it allows your project to be printed right after the creative process workflow is complete. Whether your company designs something in-house or outsources it, a high-quality PDF is all that's needed to print your project effectively. When you work with H&H, you can even upload your files directly through our website. Your computer generated image or graphic is then sent to our press and printed quickly to accommodate any fast turnaround times you might need.
Pros
As we just mentioned, one of the biggest benefits of the digital printing process is how quickly a project can be produced. Since digital files print directly from a computer to a press, the speed at which we can print for you is greatly increased. This also helps save on costs since there's no set up for a press or extra materials being used to create the file for you.
In addition, one of the best parts about this method of printing is that you're able to have variable data. So if you have addresses or names that need to be different for each letter that you print, digital printing is the way to go.
Cons
On the flip side of things, digital printing starts to become more costly when the number of items you're printing increases. If you're printing a quantity of material over 2,500 pieces, your longer print runs start to become more expensive than if you had used offset printing. Digital printing is best used for projects that have shorter print runs.
It's also important to note that if your project uses darker colored paper, certain toner-based digital presses won't be able to print lighter colors on it. Ask one of the experts at H&H what will work best for you.
Offset Printing
Developed in the 1800s, offset printing has been in use for decades and is one of the most common printing methods today. Once your document is received, the file goes through pre-press production by being converted to a negative. These negatives are transferred (offset) onto objects called plates, which is how your final product is produced. Your product is then fed through the printing press on a continuous roll of paper and cut to size before being delivered. Common products that use offset printing are magazines, newspapers, brochures, books, and more.
What is the Difference Between Digital and Offset Printing?
The main difference between digital and offset printing is obviously how the product is produced. Digital printing does not use plates like offset printing does. While the pre-press and setup process is more time consuming for offset printing, the speed and quantity that this printing method can produce is what makes it so cost effective for larger projects.
Another difference between digital and offset printing is that offset tends to allow for larger sheet sizes and better color accuracy. Offset printing presses can typically run 40-inch sheet sizes, while digital tends to only go up to 19 inches, so offset is better for larger projects. The offset printing method also allows for superior color control that is more precise than digital. If color consistency is important for your branding, offset is the way to go.
Pros
In addition to its superior color accuracy, offset printing tends to produce higher quality images. Digital printing technology is improving, but the offset printing process is specially configured for enhanced quality. Typically you might think that higher quality makes it more expensive, but the cost of your printing project will actually go down as the quantity of your products goes up. Offset printing is also not limited to specific materials, but has a wide range of media that it can print on like wood, cloth, plastic, and more.
Cons
Unfortunately, there are also a few downsides to the offset printing process. For example, because of how the plates are set up for printing, personalization can be difficult to achieve with this method of printing. If you need different names or address on each of your printed materials, you may want to consider digital printing. The same goes for if you have a lower quantity of materials that need to be printed. Since it's so time consuming to set up the press and plates for offset projects, when you're not printing a lot of materials, your cost may drastically increase.
Our goal at The H&H Group is to help you achieve your business objectives through print. We specialize in almost every type of print collateral on the market today and start out every project with a conversation. We want to know about your business and help you create an incredible print product, and that starts by helping you choose the best method of printing for you. If you're curious about how much your project will cost, click here and we'll get back to you with pricing as soon as possible. Otherwise, send us a message or give us a call and we'll help answer any questions.