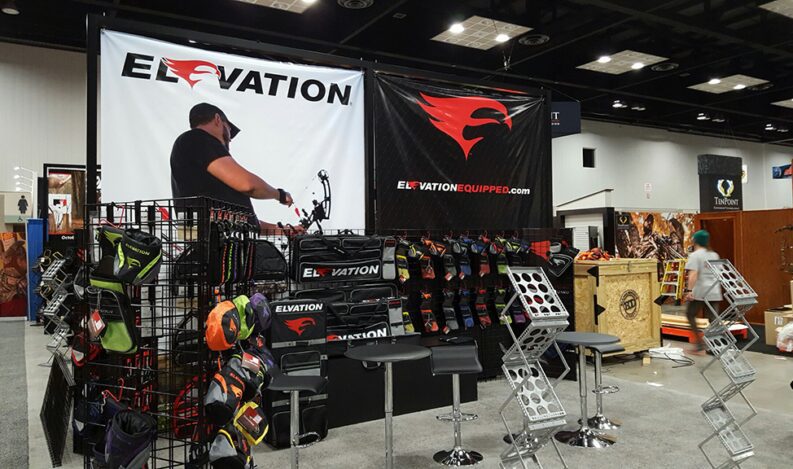 Create an Awesome Experience with Your Next Trade Show Display
Trade shows, conferences, exhibitions, seminars, or conventions—no matter what you call these events, you need a well-branded, eye-catching display that leaves a lasting impact on visitors. If you're ready to shake things up for your next trade show display to create an incredible experience that gets shared on social media, it's time to explore your booth design options.
General Trade Show Exhibit Tips
Before we jump into different ideas for your next trade show display, let's talk strategy for a minute. Several elements make for a great exhibit booth, but you should remember that it needs to reflect your brand's messaging no matter what idea you create for your next show.
Brand Consistency
Use the same logos, fonts, colors, and images as your brand in your trade show materials. This consistency helps you create a more significant, cohesive impact that won't confuse your target audience.
Booth Sizing
The standard booth sizes are either 10×10′, 10×20′, or 20×20'. Some booths have perimeters all the way around for guests to walk into your display—others just have one or two sides. Knowing the size of your booth and the perimeters around it can affect the way you design and set up your display. You'll want to make sure each side of your booth invites attendees and has enough staff to help numerous folks at once.
Essential Trade Show Needs
To get started setting up your display, you're going to need a few essential items. You can reuse many of these items again, so it's worth investing in some high-quality products to last for years. These items also further promote your brand and messaging, so ensure they are consistent with your other marketing materials.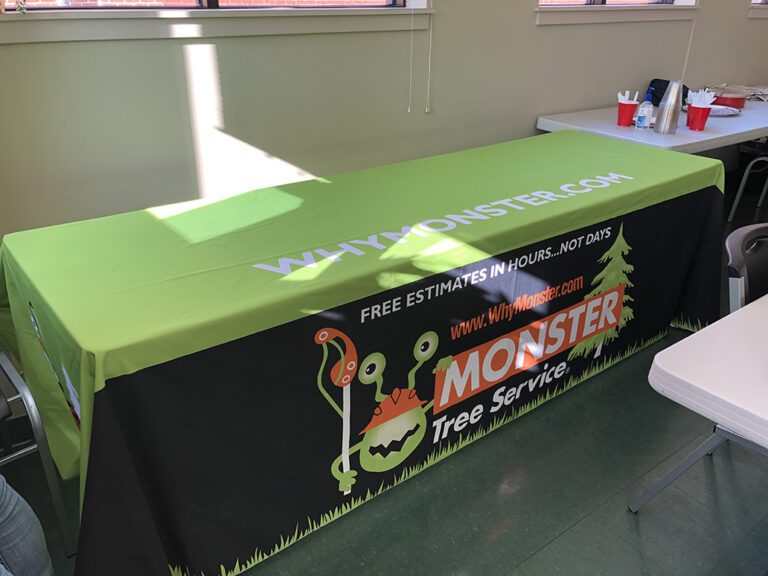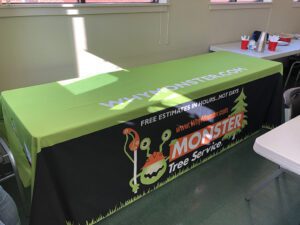 Table Covers
Table covers are an effective way to turn a drab brown table into a work of art. Use your company's logos, colors, and tagline on the table cover. Or, create a clever message to entice visitors to come to visit your stand.
Name Badges
Name badges go beyond the plain white "Hello, My Name Is…" stickers you get from an office supply store. Instead, create branded name badges with your staff's names printed on them in colors that adhere to your brand's messaging. You could even put a statement on it to encourage interaction, like "Ask Me About [Your Product]."
Banner Stands
Banner stands are one of the more popular items you'll find at trade shows. With an enticing graphic design that pulls visitors to your stand, banner stands are a practical marketing item for your display. Retracting banner stands are easy to set up and tear down and are affordable to get your messaging to multiple visitors.
Available in a wide arrange of sizes, styles, and quality, it's easy to customize this essential trade show item. (And don't forget to check out our video about how to care for your banner stands!)
Trade Show Booth Options
Once you have your essential trade show booth items designed and ready for the event, the next thing you'll want is to figure out is which option will work best for your trade show display. The right choice for you depends on your budget for the event, how many people will be staffing the booth, and how large of a booth space you have.
Pop-Up Displays
For an affordable and reusable option, pop-up displays are a great choice. This display is lightweight and easy to assemble. If you have minimal staff attending the event, this display will work well because one person can quickly set it up by opening it, expanding the display, and locking it into place. In addition, with photo-quality custom graphics, you can create a fantastic experience with a pop-up display.
Digital Displays
An increasingly popular choice for conventions is digital displays. They allow you to gain maximum attention, especially if you create a video wall with one seamless image or multiple images across different panels. Your choice of plasma, LCD, or OLED screens can be mounted on a wall, suspended in the air, or placed on a stand on the floor.
Traditional Trade Show Booth
Finally, you can choose to take a more traditional trade show booth option, but don't let the word 'traditional' make you believe it's boring or outdated. These booths can be as simple as a 10-foot backdrop with message and graphics or a whole immersive space with hanging structures, interactive features, and a unique sitting area to encourage visitors to stay. This option is the ultimate in creativity.
Interactive Features for Your Next Exhibition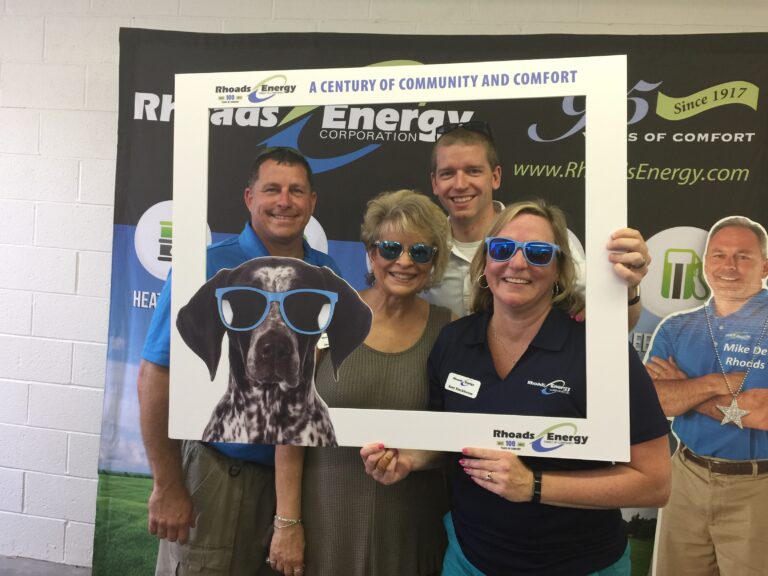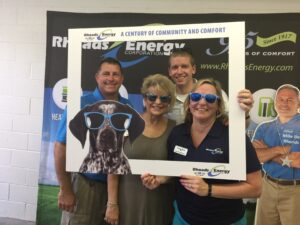 Having the right essential items and trade show booth style sets the stage for engaging with visitors at the event. However, when you add the right interactive features, it adds that special touch to create an extraordinary experience that guests will share with others.
Selfie Frames
If you want a fun way to increase your social media marketing, creating a branded selfie frame with fun props allows your visitors to take photos to remember the event and share on social media. Try a theme for the props—one that matches the theme of the event or something completely different—like Hawaiian hula skirts and leis, oversized sunglasses, fake mustaches, and funny signs. Have fun and get creative!
Kiosks
Touch-screen kiosks are also a significant interactive element to add to your display. For example, some kiosks can take photos of your visitors with a branded frame around them. Others could help you test new ideas and ask your visitors to take a quick survey to receive a prize. Another option is an online store for your product or even a game centered around your messaging.
Branded Games
If space allows, having some games to play at your booth will increase your brand's awareness and impact on the show attendees. Create corn-hole boards and bags with your logo and message on them. Another option is to build a giant woodblock stacking tower customized to your brand. The possibilities are endless, so let your imagination run wild.
Contact The H&H Group for Help with Your Next Trade Show Displays!
Whether you need a trade booth designed, help to create eye-catching displays, or to select the right interactive features, The H&H Group is here! We'll sit down and have a conversation with you to learn about your goals, messaging, and the trade show. Then, we'll help you create custom signage and trade show displays that fit your brand. We'll always help you stay within budget and provide the marketing advice you need before and after the event. View some of our success stories to see how The H&H Group helped businesses grow with suitable custom graphics. Then, contact us to see how we can help you make your next trade show a raging success!