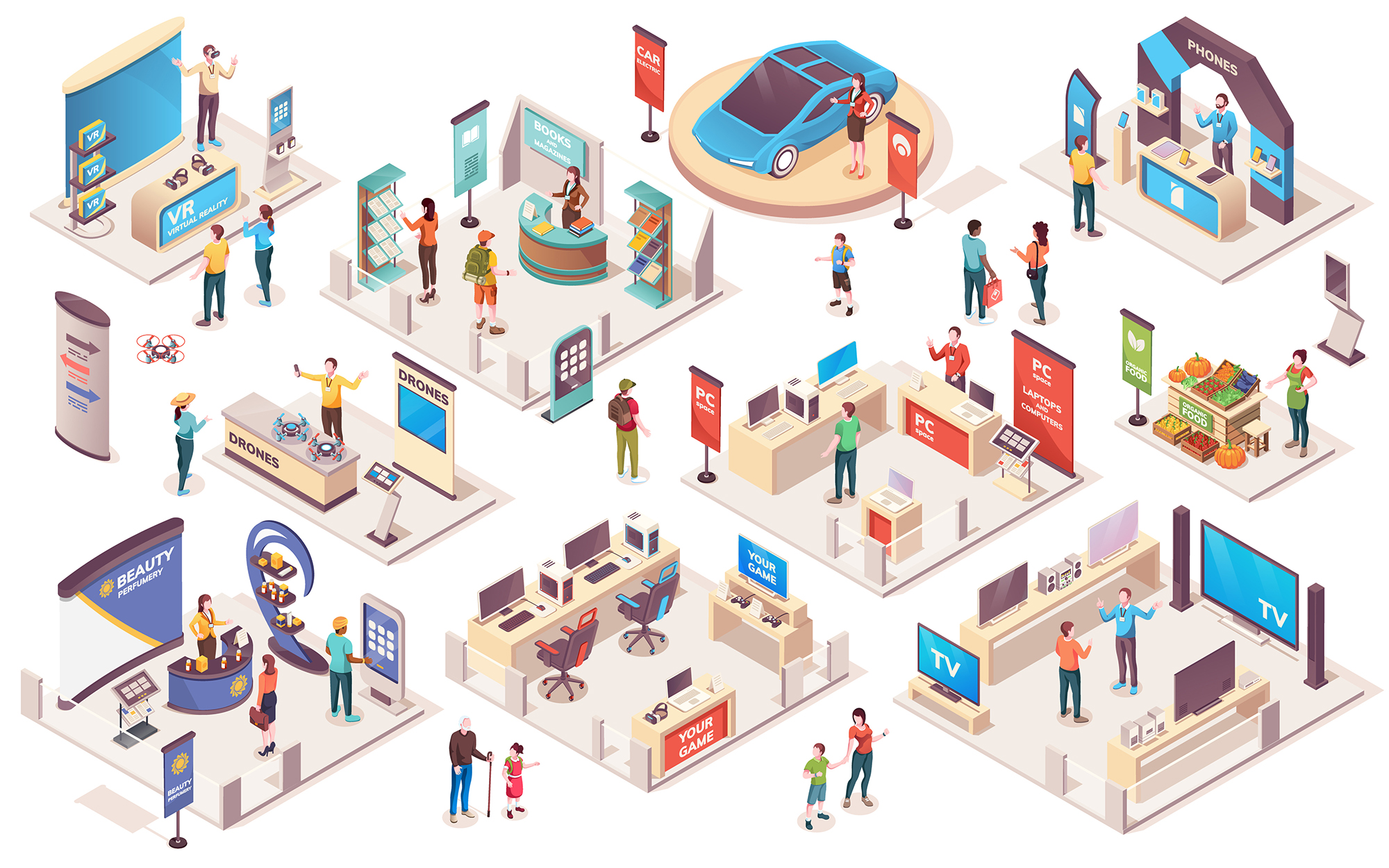 6 Things to Consider When Looking for New Digital Trade Show Displays
You have a trade show in a few months and want to up your company's wow factor. Last year, you had plenty of promotional branded items that potential customers loved, but you think you could do more with your trade show display design. If that's the case, digital trade show displays are the perfect thing to add to your stall for this event!
A digital display is a powerful tool to get maximum attention for your exhibit booth, but there are some things to consider before you dive right into a purchase. With these five considerations, let us help you decide what will work best for your event display.
1. Why Do Trade Show Displays Matter?
At a trade show, there's tons of hustling and bustling. Crowds of people flit by, and you only have a few seconds to make an impression and get the people there to pay attention to your booth. Beautiful, eye-catching trade show displays can be something extra that draws someone to your company's booth.
Digital signage is incredibly attention-grabbing, so attracting visitors is much easier with this display! They matter because they are the first impression of your business you are giving a potential customer or client. Don't you want that first glance to give the viewer a positive, professional image of your business?
2. What Kind of Display Do You Want?
When creating your trade show display, having your brand's identity front and center is the most important thing. You want to ensure your signage reflects a professional, neat appearance. While there are plenty of signage options, digital signage is the best at showcasing your brand as a leader in your industry. It says, "we are technologically savvy and willing to invest in our company to put our best foot forward."
When choosing the kind of display you want, you have a few different types: plasma, LCD, and OLED. Each of these has different costs and display resolutions. Resolution is significant regarding what you are using your display to showcase.
3. What's Your Budget?
Budget is an important thing to factor in for your trade show event. You want the event to generate leads, and a digital display is an investment that will help you do that! While the investment might seem a bit costly, remember that because this display is digital, the content can be changed, edited, and repeatedly used for many purposes and events.
So, this is not a one-time use paper banner that you will dispose of after the event. It's a permanent advantage you are giving yourself for all future events! Speak with our digital trade show experts to get a display matching your budget and needs.
4. What's Your Demographic?
When designing new digital trade show signage, it's essential to consider the demographic your company appeals to get the proper signage. For example, suppose you have a large social media presence and a younger audience. In that case, you might want a larger digital display with excellent resolution to showcase videos or highlights of your real-time social media posts.
On the other hand, an older audience might appreciate a digital display that offers a slideshow of facts, charts, and other information about your business. Videos might not entice them to visit your stall, so the display's resolution doesn't need to be as crisp or sharp as a display that will show video.
5. How Big Do You Want the Display?
You don't want a sign that's so big it overpowers your booth, but you also don't want something so small that it's difficult to see in the crowd. You want a standout piece for your exhibit booth, but something that stands out in a good way!
The size of the display can also affect how you set it up, not just the impression it makes. Options for the display include mounting on a wall, suspension in the air, or on a stand on the floor. The display size might limit what you can do with it in the space you are given for your stall at the event.
6. When is the Trade Show?
If your trade show is tomorrow, it is probably too late to start thinking about digital trade show displays! But if you have an event in the next few months, you have plenty of time to get the right digital trade show display for your stall.
Never leave planning for your trade show event to the last minute. As there are so many supply chain issues, it's essential to give yourself plenty of turnaround time for any of your marketing materials, whether they be a display or promo items.
Need Help with Digital Trade Show Displays?
Digital trade show displays might just be the thing your business needs to stand out in the crowd at any industry event. You deserve to work with the experts for your digital display needs, which means you need to work with us!
Not only can we help you with digital trade show displays, but we can also help you with every element that goes into making an industry event successful. Name badges, table covers, pop-up displays, and kiosks are just some things you can get when you work with us for all your trade show needs! Get in touch with us today, and our team will be happy to help you make this event your most memorable one yet.