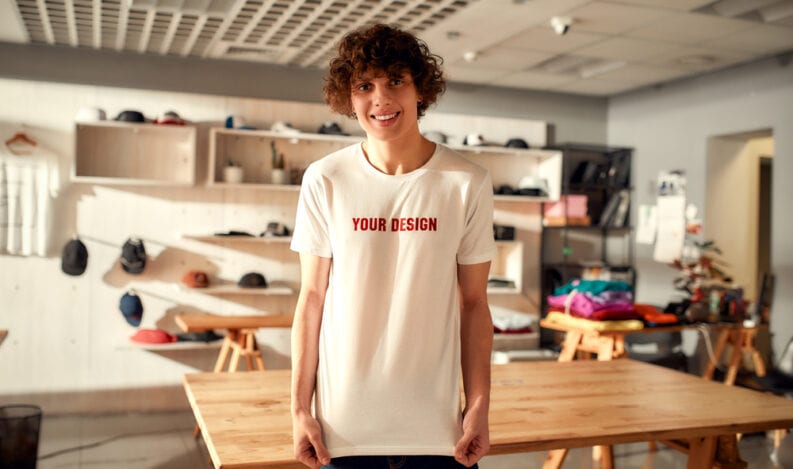 Want to Create "Walking Billboards" for Your Brand?
A little while ago, we posted here on the blog about why promotional products work. To recap, the power of these branded items is their lasting influence. Research proves that people keep, use, and wear well-designed promotional products, often for YEARS.
And one of the best categories of promotional items in terms of bang for your marketing buck is branded apparel—things like t-shirts, sweatshirts, polos, hats, and jackets.
Like other personalized promotional products, branded apparel works to boost your unique identity and message—even when your marketing team is busy with other projects. Your team members and fans wear your logo in front of others as they go about daily life, effectively turning them into "walking billboards!"
And the best part? Branded apparel is an affordable marketing solution—with per impression costs well under a penny for many styles! (Way less than advertising using actual billboards.)
Branded Apparel is More Than Just T-Shirts
We know what you're thinking—handing out free logo t-shirts doesn't seem like a very original or inspired marketing tactic. However, did you know that research (from ASI's annual Global Ad Impressions Study) shows that customers like yours want this type of promotional apparel and place a high value on it?
Of course, there are so many more branded apparel options than simple t-shirts. You can use items like technical polo shirts or button-downs as corporate or uniform apparel to outfit your employees with a cohesive, on-brand look. Consider other clothing items and accessories like baseball caps or even neck gaiters and face masks to launch new products, offer thank-you gifts to customers, or market your next event.
No matter what, whether corporate or casual, we have a solution that fits your team and customers!
Capture All the Benefits of Branded Apparel and Outfit Your Business for Success!
If you're still wondering why you should consider creating branded clothing, look no further than these big benefits.
Branded apparel has the power to:
Create brand ambassadors
Build brand awareness and recognition
Communicate brand image and personality
Unite your team by creating a sense of community and team spirit
Promote loyalty
Inspire confidence in your company's professionalism
It's Easier Than You Think…
When you want to outfit your employees with custom uniforms, corporate clothing, or work apparel, our experts can help you make an impact with embroidered and screen-printed promotional wear.
Need a giveaway t-shirt for your next trade show? We can help you customize something stylish and memorable!
How about professional-looking customized polo shirts for your event staff? We have a range of style options from a variety of manufacturers known for quality.
See the difference we can make for your business with branded apparel. We promise you won't find a better selection anywhere else!
Shop Our Promotional Apparel Online
Trust The H&H Group and MultiGraphic Marketing for the Best Branded Apparel Every Time
At The H&H Group and MultiGraphic Marketing, when it comes to the highest quality promotional clothing, we're your one-stop resource for everything wearable that you can put your name on—right here in Lancaster, PA! Just like with our complete printing and sign-making services, our product managers know what works to make you memorable to your customers and prospects with branded apparel.
When you're ready to outfit your team, build your brand, and promote your business, H&H and MultiGraphic Marketing will provide the right promotional apparel options for your unique target market/demographic—every time.
Have questions or need help with design? Just get in touch with our dedicated team now!