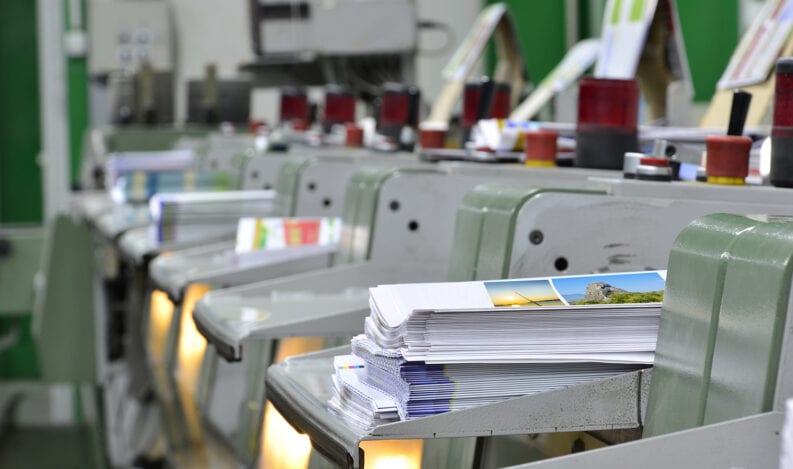 Five Answers to Your FAQs about Short Run Printing
Achieving your business goals through print marketing materials doesn't always mean you want many copies of printed materials. Whether it's for budget reasons, wanting to test a smaller market, or needing a faster turnaround time, a small run print job from an experienced short run printer in Lancaster, PA—The H&H Group—can help your business succeed.
Digital printing allows for a low-risk, high-quality print marketing solution to get the job done on time and budget. You can trust the H&H Group to deliver the marketing materials you need.
What is Short Run Printing?
Short run printing is a form of digital printing that allows a business to produce a small number of books, postcards, brochures, and other marketing materials quickly and affordably. In contrast, traditional offset printing is more appropriate when companies need greater than 1,000 copies of their marketing materials.
How Does The H&H Group Produce Short run Print Jobs?
Since short run printing uses digital printing, pre-press operations associated with offset printing aren't necessary. Instead, the marketing material is digitally crafted and printed directly onto a stock or other substrate's surface using toner or ink.
At the H&H Group, we use an HP Indigo press to deliver your printed marketing materials on time and within budget. This printing service allows you to create targeted, personalized marketing materials to help bring more customers into your business.
What are the Financial Benefits of Digital Printing?
With digital printing and small-run print jobs, you don't need to invest as much money into your marketing materials. Not only are you printing fewer copies at local print shops, but you are also avoiding the upfront costs of plate creations and setup required for larger quantities of printed materials. You'll also prevent storage fees from having to store many printed copies that you may or may not use.
Printing in smaller batches means less waste. You can print the exact quantity you need without worrying about having extra copies that require storage. And when it's time to update those marketing materials, you won't have to worry about wasting the old brochures that contain obsolete or outdated information since you don't have to print as many.
When you trust the H&H Group to deliver the short run marketing materials you need, you can rest assured that you are also protecting your bottom line. Check out this customer success story about how we helped medical publisher HCPro reduce waste with shorter run printing.
Contact Us Today to Get Started
How Quickly Can A Local Print Shop Turn Around My Job?
Compared to offset printing, the turnaround time for short run printing is much faster. Since you don't need to create large plates and run the job through big machines and ink rollers like offset printing, the process goes much quicker.
As a printer in Lancaster, PA, The H&H Group specializes in digital printing projects requiring a fast turnaround on a tight budget. Our expert team of print consultants can quickly deliver your print-on-demand request for brochures, flyers, books, and marketing materials.
How Does Short Run Printing Help My Business Succeed?
Short run printing helps your business succeed beyond just the financial and timeliness benefits. You have less risk because you're printing less.
What if you print 1,000 books but only sell 300? Now, you have 700 books, and it's going to take much longer to see a profit. Instead, if you printed 100 books to test the market and sold all of those, you'll see a profit more quickly and can print more as the market demands. Or if those aren't selling as soon as you'd like, you can adjust your marketing until you find what works without investing a ton of money.
When you trust the H&H Group, you can completely customize your digital printing. Each printed piece can have a unique code, name, or address. Plus, the print quality of our HP Indigo press provides sharp, precise images with less distortion. We can help deliver your marketing supplies by either delivering locally, shipping to your or your customer's location, or even placing the materials straight into the mail.
Contact Your Local Printer in Lancaster, PA—The H&H Group!
Stop losing out on your customers because your marketing materials aren't ready. Instead, trust us at the H&H Group with your short run digital printing needs.
When you work with us, you can be confident that we will complete your short run print job quickly and within budget. You'll be able to reach your customers with beautiful printed pieces that drive more customers into your business. Simply tell our experts about your business, and we can help you create and print the marketing materials you need, ship them to your door or your customer's door, or even place them directly into the mail. Contact us today to get started!