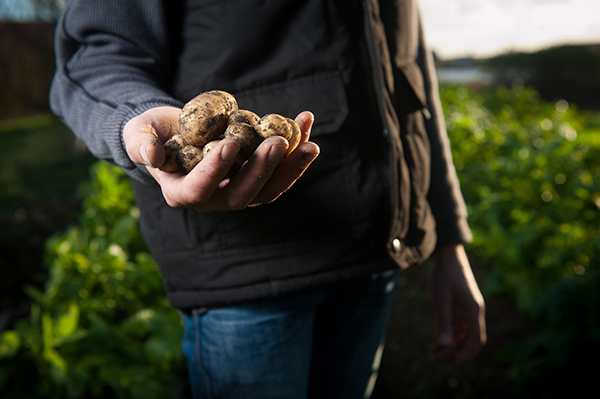 What in the World is Integrated Marketing?
Integrated marketing is a strategy for achieving consistency across all methods of communication, advertising, marketing, etc. It is about unifying the voice, personality, and messages used to communicate with customers, regardless of marketing channel. Integrated marketing gels all marketing efforts, whether online or offline, digital, social, print or other and creates a cohesive and consistent brand voice that resonates seamlessly vis-à-vis additional buzzwords blah blah blah.
Yuck! Let's ignore that word soup definition and look at a practical example of integrated marketing to see if we can make some sense of it.
Integrated is really just a word we've tacked on to capture the idea that all company communications and actions share a common thread. Think of it as a theme that all your marketing efforts are built around.
For instance, let's say your company's strength is connecting local farmers with restaurants serving fresh, local foods. Your integrated marketing plan might include:
An icon or logo that depicts farm fresh food.
A series of blog posts on your website discussing organic farming methods
A workshop with a famous chef known for creating simple and delicious dishes from farm fresh ingredients
A newsletter reporting on environmental and regulatory issues facing farmers
A video series exploring the benefits of eating fresh foods
A special discount for new restaurant customers interested in joining the farm-to-table movement
A podcast featuring interviews and inside looks at the restaurants you supply
An Instagram feed featuring feel-good images of both farm scenes and plated food
Printed sell sheets, advertisements and direct mail featuring your farm fresh logo
Facebook and other social media feeds celebrating the connections between food growers and restaurants
Many of these bullet points don't directly declare the services you offer, but they do create a holistic feel around the core strengths of your business. Everything you do and say should emphasize the key concepts of fresh, local and making connections.
So really, what Integrated Marketing is all about is embracing the strengths of your business and publicly reinforcing those strengths in an on-brand, cohesive way.
Some crucial points to keep in mind while thinking about your integrated marketing strategy:
Establish a logical connection across all of your efforts. Do the things you are saying and doing go together and make sense? Are you being consistent with your content and the values conveyed? Conflicting or contradictory ideas can lead to mistrust, so it's important to create a harmonious balance across all of what you do.
Integrated marketing can be dizzying as you start to think about all the opportunities you have to promote your brand in new and connected ways. Keep in mind the key concepts of consistency and harmony. Tie that in with on-point branding and images, some creativity, and a plan that encompasses all of it and you're on your way.