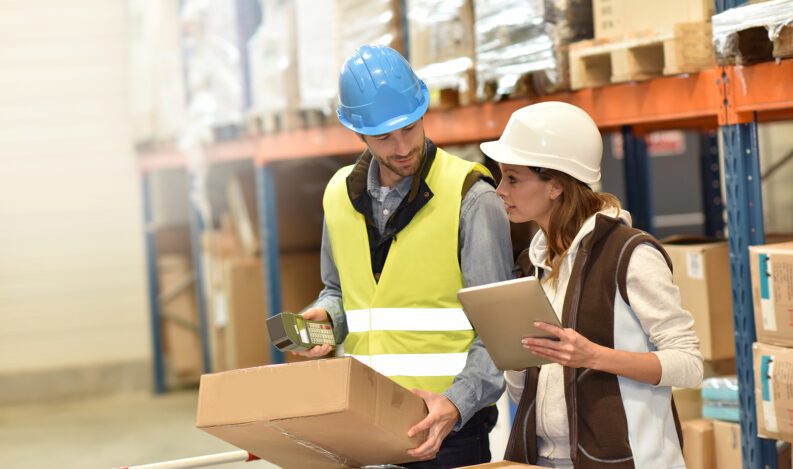 A Startup's Guide to Finding the Right Fulfillment Services
Small business entrepreneurs are the lifeblood of America's economy because they create new jobs and drive innovation. But when you're in the initial stages of a new operation, there are many factors to consider. Perhaps the most crucial element is determining how your products will get in the hands of your customer. A warehouse fulfillment center, like The H&H Group, is an excellent option.
The H&H Group helps company presidents, CEOs, warehouse managers, and production managers maximize customer value and maintain a competitive advantage. Our expert e-commerce fulfillment specialists will ensure your products are picked, packed, and shipped to your customers accurately and on time. Getting started with fulfillment solutions is easy, too!
Ways to Deliver Your Products
Outsourcing fulfillment is often a more cost-effective way to get a startup's products in the hands of your customers. You don't have to worry about having enough space to store your inventory or making the initial investments in warehouse racking, packaging supplies, and machinery. You can focus on growing your business while your warehouse fulfillment center processes orders. You can often reduce shipping, technology, and operating costs by partnering with a third-party logistics (3PL) supply chain company.
Your other options include packaging and shipping orders yourself and a team or integrating with a drop-shipping company.
Drop-Shipping
With drop-shipping, you list your items for sale on your website. When a customer places an order, a third party manufactures and ships the item. The problem is that you have very little control. You never see your inventory, and you're trusting your product and customers in the hands of a stranger.
You'll end up paying more for the manufacture and shipping of your items because you're only purchasing products one at a time, saying goodbye to bulk discounts.
Do It Yourself
You could, of course, ship the products yourself after you make them, and you or your team would need to keep up with the customer demand and ship orders yourself. But do you have the expertise and knowledge of shipping regulations to do that? Plus, when there's a sudden spike in customer orders, would you have the capabilities and resources available to ensure all orders are accurate and arrive on time?
If your answer is probably not, then partnering with a fulfillment company, like The H&H Group, is an excellent choice. We have both a storage warehouse and a fulfillment center to meet your needs best!
What's the Difference Between a Warehouse and a Fulfillment Center?
There's often some confusion on the differences between fulfillment centers vs. warehouses. Warehouses are large buildings designed to store finished goods. Fulfillment centers—also called distribution centers—are warehouses that store products and are operated by a 3PL company that handles order processing. They typically have warehouse space for inventory management and handle things like returns and freight processing.
Choose the Right 3PL Partner
Once you've decided that your small business will benefit from a warehouse fulfillment center to get your products to your customer, the next step is choosing the right 3PL partner. You'll want to take into consideration things like:
Product needs: Does your product need special handling or stored in a temperature-controlled warehouse? Does the warehouse need to be food-grade?
Location of the fulfillment center: Do you want a local fulfillment center to save money on shipping costs?
Pricing: Will the distribution center's cost for shipping orders, customer service, and inventory management fit your budget?
You'll also want to make sure the warehouse is accurate, reliable, and speedy. You can ask potential 3PL partners for customer testimonials to see what their current clients say about them. Also, pay attention to how they respond to your requests and interact with you while trying to earn your business. It will say a lot about what type of shipping partner they will be.
How Does Order Fulfillment Work?
When starting an e-commerce business that uses an order fulfillment center to ship products, you need a basic understanding of how order fulfillment works. There's a seven-step process for your customers to receive their perfectly packaged order: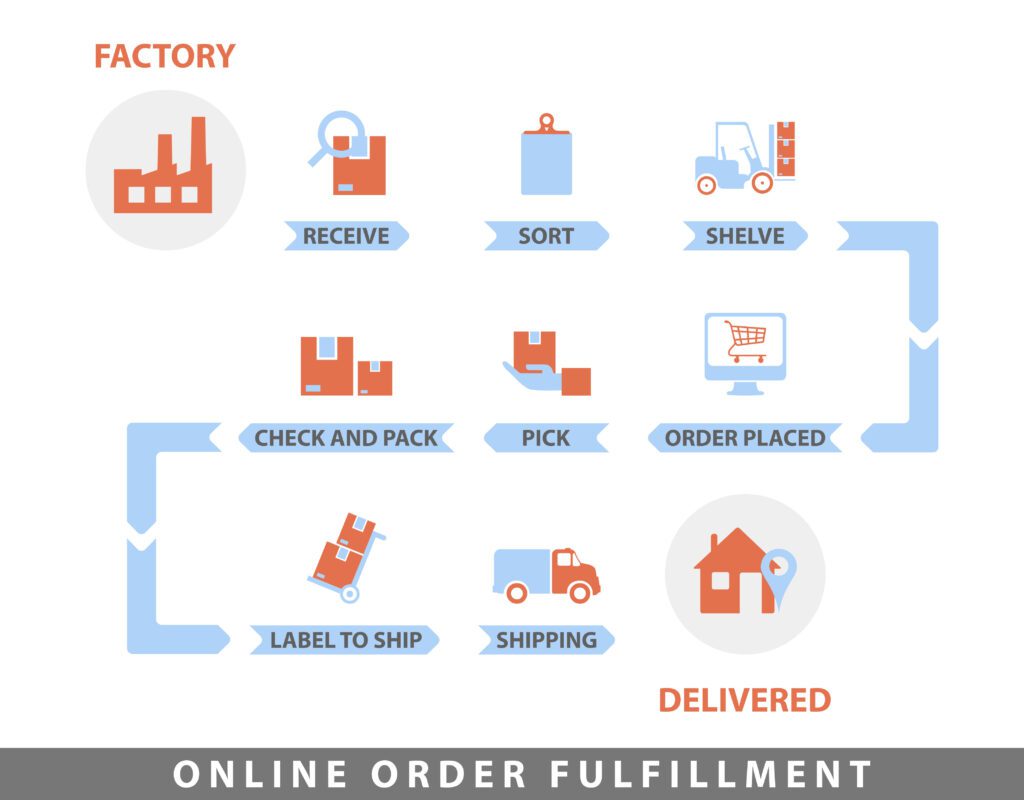 You or your manufacturer produces your product.
The product gets shipped to your 3PL partner, who receives it at their location.
The inventory is then processed according to the stock-keeping unit (SKU) and stored for future use.
A customer places an order on your online store, and it gets sent to your 3PL partner.
The fulfillment associate picks the order, it gets checked by a team lead, and then expertly packed for shipment.
The package is shipped to your customer based on the preferred shipping methods.
Your customer receives their order.
Consider Your Specialized Needs
In addition to someone capable of accurate order fulfillment, you'll want to consider specialized needs. As a business owner of a new company, you undoubtedly want to know about things like scalability and how your 3PL partner can grow with you. Thus, partnering with a 3PL that can help with print-on-demand requests, kit assembly, and mailing services gives you an advantage over competitors. The H&H Group offers all these benefits and can grow with you as your company grows.
Choose The H&H Group's Warehouse Fulfillment Center for All Your Shipping Needs!
When it comes to getting your new product in the hands of your customers, choosing a warehouse fulfillment center is the way to go. Not only do you have better control of products and costs, but you can also rest assured that they can handle any spikes in customer orders that happen when your product goes viral.
Trust the experts at The H&H Group for all your order fulfillment needs! Our experts will help you identify your shipping pain points and then develop and implement a customized fulfillment strategy that works best for you and your customers. Get started today!