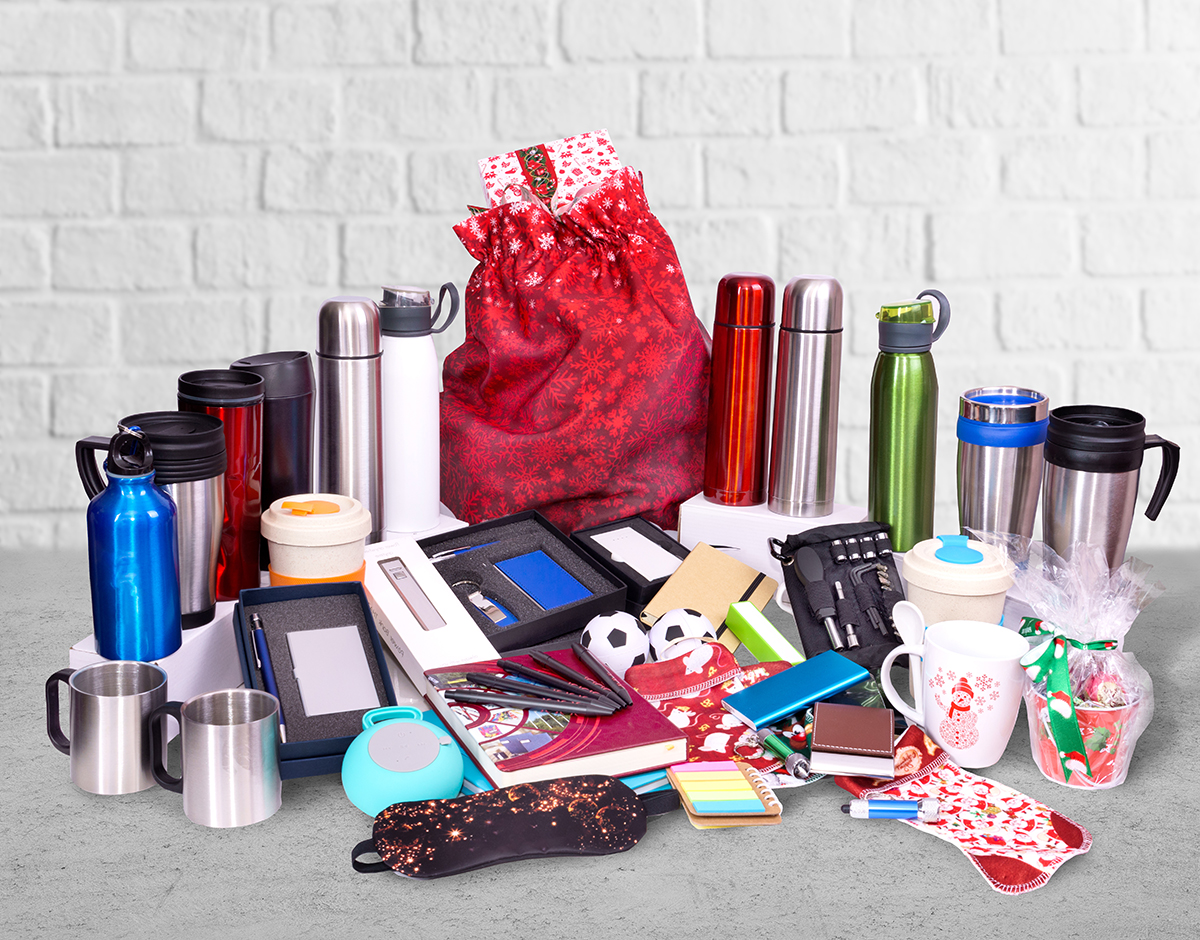 Will Custom Promotional Products Really Help Me Market My Business?
You're at a food and drink event when an attractive logo catches your eye. After investigating, you discover they sell wine. You're not a big wine drinker, but your sister-in-law is, and she would really love that their flavor names all correspond with book characters and fictional locations. You buy a bottle as a gift, and they throw in a free magnetic bookmark with their shop's name and location printed on the front.
Later on, after you've gifted your sister-in-law the wine and the bookmark, she lets you know that she's shown the cool bookmark to all her friends at her book club, and they're all planning a day trip to the winery next weekend. Through this bookmark, you've helped expand this brand's reach to all 15 book club members!
It's innovative, interesting promotional products that work the way the magnetic bookmark does in this scenario. Anyone can have branded products, but the standout, useful promo items hold out against the test of time. When you need custom promotional products, The H&H Group can help. We've got tons of options for promo items to suit all your needs, whether you're looking for magnetic bookmarks, t-shirts, branded pens, or even sports bags!
Do Custom Promotional Products Work as Marketing Tools?
As demonstrated by the example of the magnetic bookmark for the bookworm wine company, yes, custom promotional products work as marketing tools. But why and how do they work? Historically, promo items have been a highly effective marketing tool for companies across the globe, especially if the consumer finds them to be useful in some way. They work for many reasons, but the three main reasons are these:
1. Return on Investment
Promotional products have a great return on investment or ROI, especially when compared to other types of advertising, like commercials or influencer campaigns. Investing in your promo items and other lesser-used advertising avenues can help spread your brand to an audience that may have otherwise never heard of your company for cheaper than significant advertising expenditures.
Word of mouth is a powerful marketing tool, and branded promotional items can help spread the word about a brand without much effort. Even if you have no other means of advertising, promotional products and word of mouth can spread your brand much further than you'd think. Plus, this comes with the bonus that word-of-mouth is one of the most trusted forms of advertising since a recommendation from someone you know means more to you than a recommendation from something like a commercial.
2. Make Lasting Impressions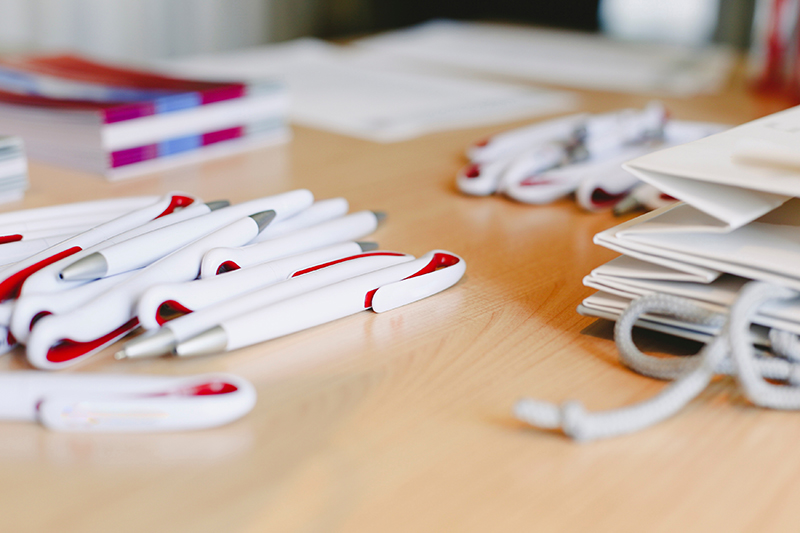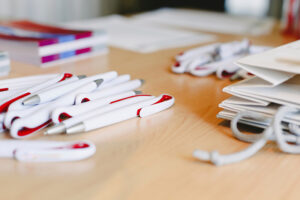 People love promotional products, and there is plenty of evidence to back that up. A survey in 2016 by the Advertising Specialty Institute, or ASI, indicates that most people keep their promotional items from about six months to nearly 14 months, depending on what the article is.
These promotional items make their rounds by someone lending out a pen, wearing a shirt, using a travel coffee mug, or passing it along to someone else who does the same things. When a person has the item, they expose other people to it in one way or another.
When a person is handed a promotional item for free, they tend to think more fondly of the brand associated with the product. Something as small as a sticker can give the consumer a favorable opinion of your company, leaving a lasting, positive impression.
Even if they don't remember everything you said about your brand, the item with your logo can remind them of the moment of surprise and joy, they experienced when handed this free item. These positive feelings are more likely to translate into future interactions with your products.
3. Versatility
Where there is an everyday object, you can find the opportunity for it to become a custom promotional product. Are you an active lifestyle brand? Athletic bags, hats, and branded sunscreen may be the right materials for you to get your name out there.
Are you a brewery that sends out ambassadors to bar events? Send them along with branded pint glasses to give out for free when they order a flight of all your beers on tap.
The versatility of custom promotional products makes them the perfect choice for businesses. At The H&H Group, we offer more products than you've probably thought to put your logo on, and we can help you decide what will be innovative and effective for your brand in today's market.
Why Are Custom Promotional Products So Appealing?
Think about the last time you were gifted a free branded item. If it was an item you considered valuable, you likely held onto it. Maybe you are still using it even today! Some brands give away drinkware or t-shirts at events, and everyone loves a nice-quality pint glass or a soft, well-fitting t-shirt. Custom promotional items, when done well, are appealing because they are typically items people use anyway and are free.
If you want your brand to stand out and leave a lasting impression, it's time to make the small investment necessary for high-quality promotional items! Let your promo pieces do the talking for you and spread the word of your brand with minimal effort on your part.
Are There Any Negatives to Custom Promotional Products?
Unfortunately, there are some negative aspects to promotional products when they are not done well. Branding that isn't consistent, poor-quality products, or products that people won't use can all be less effective than you want.
As previously mentioned, useful promotional items tend to have more staying power. T-shirts, pens, notebooks, and mugs are notable examples of promotional items that last and remain useful for a more extended period.
However, promo items that come across as cheap, poorly made, or wasteful can do the opposite for the impression you want to make on a potential customer. A fidget spinner with your logo on it could be cool and trendy but might come across as gimmicky or lose its appeal quickly, making it easy to dispose of when trash day comes. It isn't nearly as valuable for everyday life as something like a branded pen.
Your items should align with the brand and offer something to the consumer. However, not all hope is lost if you choose an article that doesn't land as well as you think it will.
In the 2019 ASI Global Ad Impressions Study, 55% of people who receive an item they don't need or care for said they would typically give it away. So even if your product lands in the wrong hands initially, it will be statistically likely to go to someone else who may need or want it!
When Should I Order Custom Promotional Products?
As with many things, planning is key to a successful custom promotional products campaign. If you are planning to go to a trade show or other industry event within the next year, budgeting for and planning your promo products for that event are great avenues to preparedness. Truly stand out from the crowd with high-quality freebies that attendees will remember and use for a long time!
When you order from The H&H Group, we do our best to ensure your order arrives quickly and has the high-quality products you deserve. However, it's best to order as soon as possible with the continuing supply chain issues and shipping problems because of the ongoing pandemic.
For example, even though it's currently spring, now is the time to start thinking about what you need and ordering for the winter holidays! While you may have been able to call on shorter notice in previous years, we anticipate more delays for the foreseeable future and encourage you to get orders in soon!
What Are You Waiting For? Order Your Custom Promotional Products Now!
Maybe you've tried custom promotional products before and felt like they weren't compelling, or perhaps you are just trying them out for the first time. Either way, let The H&H Group help you. Our promotional products are the high-quality items you need to wow your potential customers or clients and create the brand awareness you crave.